Met een social intranet zorg je ervoor dat iedereen binnen je organisatie geïnformeerd wordt en makkelijk contact met collega's op kunnen nemen. Maar hoe zit dat eigenlijk met de externe contacten van je bedrijf? Hoe communiceer je professioneel met je klanten zonder allerlei losse communicatiepunten? Met een modern extranet van Valo zorg je voor goed beveiligd en overzichtelijk communicatieplatform.
Een extranet van Valo
Een extranet ligt in hetzelfde straatje als een intranet. Je vervangt bij het communicatieplatform de collega's door klanten of andere externe partners. Met de mogelijkheden van Valo kunnen we een extranet ontwerpen dat qua stijl lijkt op het Valo Intranet, waardoor het ook heel gebruiksvriendelijk is. Het voordeel van Valo is dat we door bestaande templates snel en kostenefficiënt een extranet kunnen ontwikkelen voor jouw bedrijf.
Met een extranet van Valo is het heel eenvoudig om je externe contacten uit te nodigen en deze zelf te beheren. Als IT beheerder ben je dus geen extra tijd kwijt aan het beheer van het extranet. Daarnaast heeft onze partner een portaal aangemaakt waarbinnen de externe gebruikers zichzelf kunnen aanmelden. Valo Extranet werkt net als alle andere Valo producten als een schil om SharePoint heen. Daardoor kunnen logischerwijs alleen externe relaties met een Office 365-account kunnen toegang krijgen tot dit extranet.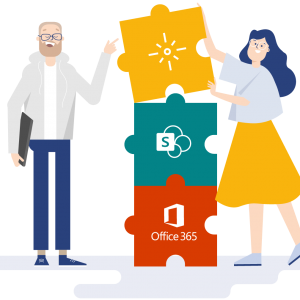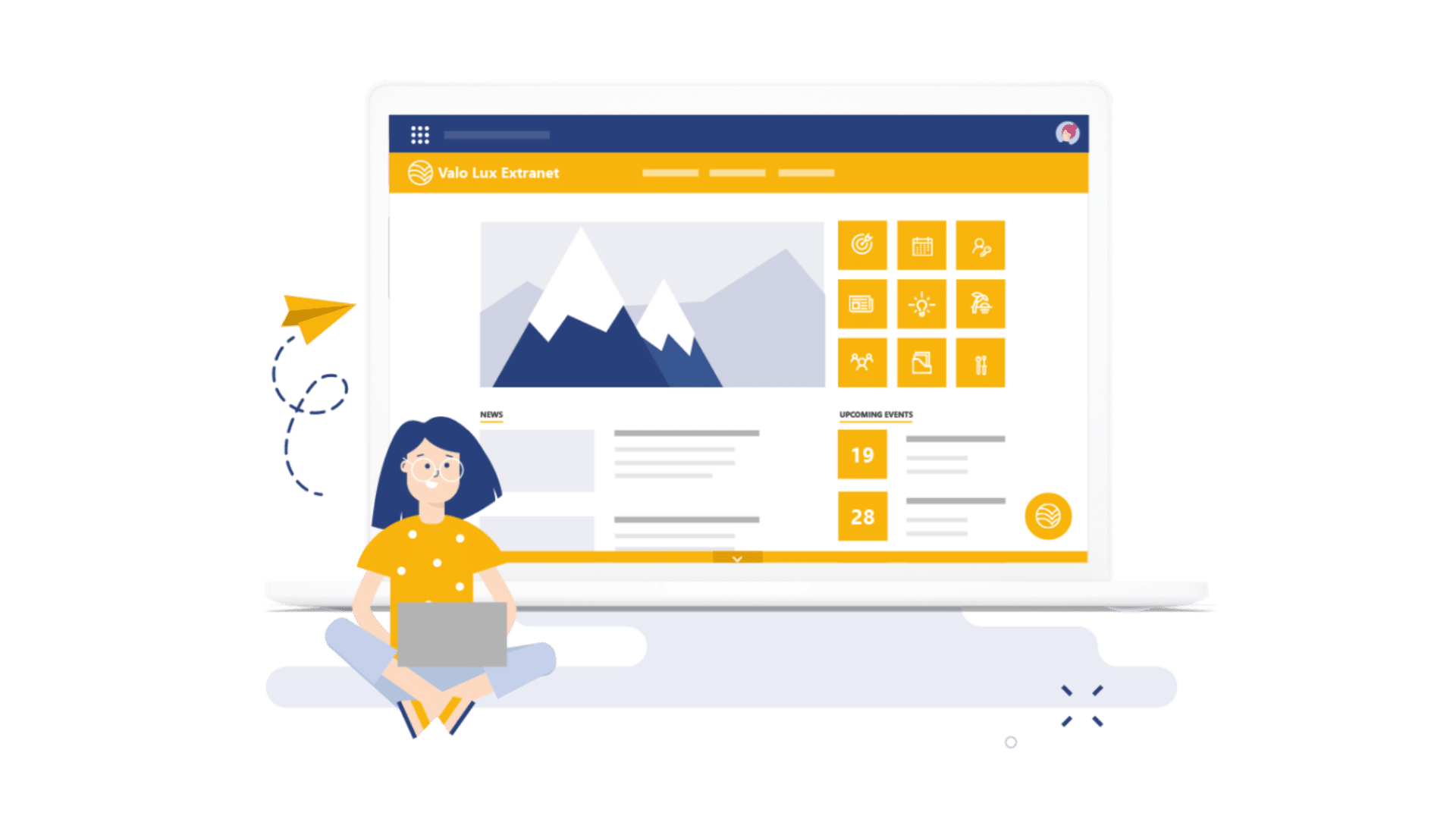 Voordelen modern extranet
+ Publiceer nieuws van Intranet ook naar Extranet
+ Configureerbare e-mailwaarschuwingen
+ Web onderdeel met alle externe gebruikers
+ Personenzoeker
+ Nieuwsbrieven
+ Verbinding met bedrijfsbeheersystemen
+ Ontwikkel je eigen huisstijl in het branding center
+ Evenement registratie
Jouw complete moderne werkplek met Valo
Met de add-ons van Valo maak je jouw digitale werkplek in één klap compleet. Valo werkt volledig op SharePoint en Office 365, waardoor je zonder zorgen bij al je documenten kunt. Door de integratie met Teams kun je alles in één centrale plek beheren. Handig toch?
Valo Entrance: eenvoudig inloggen en beheren
Ook het toegangsproces voor je moderne extranet hoeft niet lastig te zijn. Met Valo Entrance kun je namelijk het gehele uitnodigings- en toegangsproces voor externe gebruikers beheren. Als externe gebruiker hoef je alleen maar te registreren via een uitnodigingsmail. Zo kunnen klanten of partners met hun eigen account inloggen in hun eigen beveiligde omgeving van jouw extranet. Als ze willen kunnen ze zelfs nog de huisstijl in hun account aanpassen naar die van hun eigen bedrijf.
Ook beheer je zelf heel eenvoudig alle gebruikers van je extranet. Met Valo Entrance kun je individuele gebruikers aanpassen of hele domeinen aanmaken met een paar klikken. Zelf registraties bijhouden is niet meer nodig door de gebruiksvriendelijkheid en selfservice optie van Valo.
Heb je nog vragen of ben je klaar voor een Valo Extranet?
Lees verder over Valo of stel jouw vragen aan Eric via ons contactformulier.