Migratie
c)solutions helpt je om de stap te maken naar lagere kosten en betere schaalbaarheid. We begeleiden jouw migratie, waarmee we voorkomen dat er bestanden verloren gaan of eventuele lekken ontstaan. Na het inventariseren van de huidige situatie bepalen we hoe de te creëren omgeving eruit zal zien. Zo werken we stap voor stap toe naar de migratie en dus de nieuwe situatie. Hierbij hebben we veel oog voor jouw eisen, zodat je zelf slechts de grote lijnen van de migratie hoeft uit te zetten.
Migreren in 4 stappen
Een soepele migratie begint bij een goede voorbereiding. We bedenken daarom niet alleen hoe we de migraties technisch gaan realiseren. We kijken ook naar de impact van de migratie in jouw organisatie en naar verbeteringen.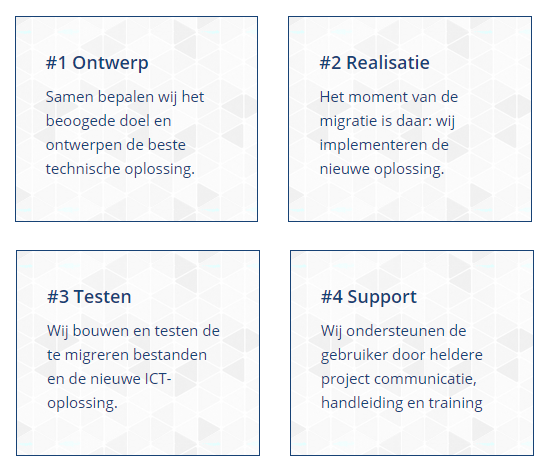 Microsoft Gold Partner
Als 'Microsoft Gold Partner' vertegenwoordigen we het hoogste niveau van competentie en ervaring met Microsoft-technologieën en werken we nauw samen met Microsoft. Door die samenwerking zijn wij een strategische partner voor vele (internationale) bedrijven in diverse branches.
Samenwerken maakt ons sterk
Het team van c)solutions benadert en bewaakt jouw project over de volle breedte. Dit multidisciplinair team bevat verschillende online expertises:

Neem direct contact op
Nieuwsgierig naar de mogelijkheden? Een vraag? Of vastgelopen in eigen denken? Geen paniek! Soms heb je gewoon iemand nodig die vraagstukken en huidige bedrijfsprocessen opnieuw tegen het licht houdt. Wij zijn benieuwd naar jouw verhaal en nodigen je graag uit voor een kop koffie.