App development met Microsoft PowerApps
Natuurlijk kunnen we je helpen met de ontwikkeling van apps door middel van maatwerk. Maar zelf kun je ook meer dan je denkt dankzij Microsoft Power Apps. Hiermee kun je op een eenvoudige manier zakelijke apps bouwen en je kunt de apps die je al gebruikt uitbreiden of aanpassen.
Eén platform, ongekend veel mogelijkheden
Pas Office 365 en Dynamics 365 aan aan jouw wensen middels krachtige apps die de productiviteit kunnen verbeteren en meer mogelijkheden bieden voor zakelijke gegevens. Pas SharePoint Online aan, gebruik PowerApps met Microsoft Teams en bouw apps voor Dynamics 365.
Sneller vernieuwen
Bouw snel apps dankzij de 'aanwijzen en klikken'-aanpak. Maak een keuze uit de vele sjablonen of begin volledig opnieuw. Koppel je app eenvoudig aan gegevens en gebruik Excel-achtige expressies om eenvoudig logica toe te voegen. Publiceer de app op internet en/of voor iOS, Android of Windows 10. Zo eenvoudig kan het zijn.
Ga aan de slag op het app-platform zonder beperkingen
Waar andere app-platformen stoppen, gaat PowerApps door. Het platform is van zichzelf voorzien van uitbreidingsmogelijkheden voor professionele ontwerpers, waardoor ze naadloos app-mogelijkheden kunnen uitbreiden. Er kan aan de hand van Azure Functions of aangepaste connectoren verbinding worden gemaakt met aangepaste en verouderde systemen.
Taken automatiseren met Microsoft Flow
Gebruik Microsoft Flow in combinatie met PowerApps om toepassingen te maken die zowel de productiviteit verbeteren als het mogelijk maken om zakelijke processen te automatiseren. Verstuur via het platform meldingen, ontvang waarschuwingen en ontvang aanvragen voor goedkeuring.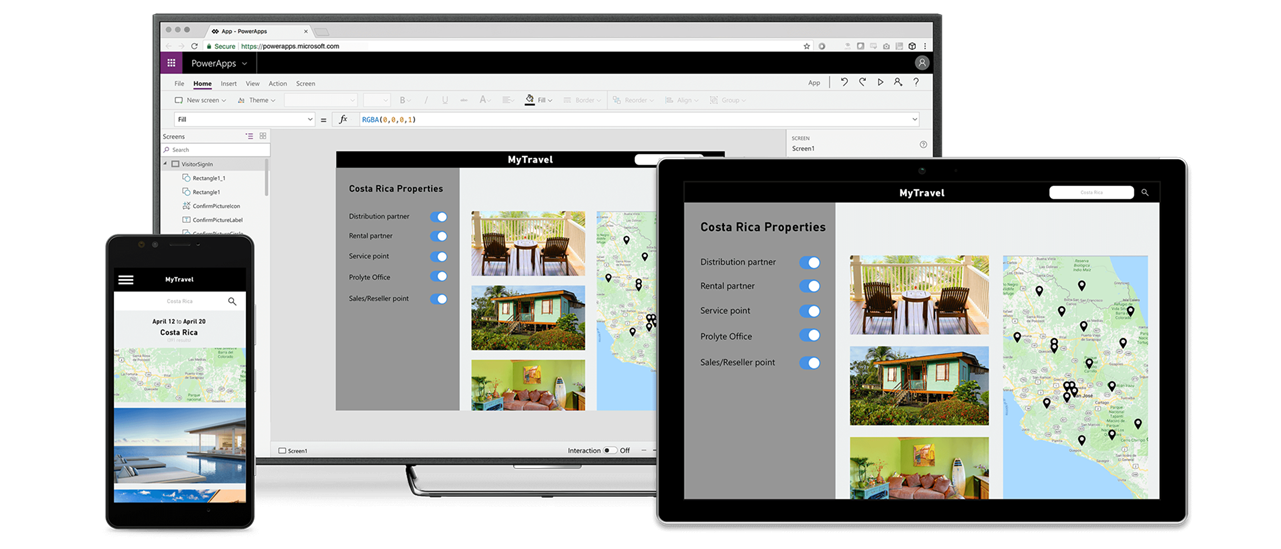 Neem direct contact op
Wij zijn bereikbaar voor al je vragen