Valo hoort opnieuw bij Clearbox Choices voor intranet oplossingen! Vorig jaar waren zij de beste keuze voor Europa en Noord-Amerika en nu staan ze wereldwijd aan de top. De ClearBox Choices bestaan uit intranetoplossingen die volgens onafhankelijk onderzoek opvallen in de markt. De meeste intranetten in het ClearBox onderzoek zijn gebaseerd op Microsoft SharePoint, maar er zijn ook onafhankelijke intranetten meegenomen.
Gids voor intranetten
Ieder jaar presenteert onafhankelijk onderzoeksbureau ClearBox haar visie op innovatieve intranetten. De onderzoekers houden de markt nauwlettend in de gaten en hebben voor het onderzoek in 2021 meer dan 200 intranetten bekeken. Hiervan zijn 75 intranetten grondig onderzocht in hun onafhankelijke 'SharePoint intranet in-a-box rapport'. Daaruit wordt jaarlijks een nieuwe lijst samengesteld met de 'beste' intranetkeuzes.
Deze keuzes zijn gebaseerd op onderzoek. In het onderzoek komen o.a. prijs, feedback van klanten en rapporten van leveranciers aan de orde. ClearBox maakt duidelijk dat er niet één beste intranet is, maar dat het er vooral om gaat dat het product goed aansluit bij de behoeften van jouw bedrijf. Daarvoor is het belangrijk dat je eerst jouw bedrijfswaarden opschrijft en dan onderzoekt welke intranet bij jouw bedrijf past. Om je daarbij te helpen heeft ClearBox als onafhankelijk bureau deze gids ontwikkeld voor oriënterende bedrijven.
Intranet choices: Global
De 'Global badge' weerspiegelt de intranet producten die naast veel aanzicht in Europa en Noord-Amerika, ook partners of klanten in de rest van de wereld hebben. Inmiddels heeft Valo wereldwijd meer dan 2,5 miljoen gebruikers. Valo hoort bij de beste intranetten met 'Global badge'. Valo heeft een goede kwaliteit-prijsverhouding en een gedetailleerde routekaart met een goede visie voor de toekomst. Met Valo maak je dus een geweldige start voor jouw bedrijf.
Valo is a well-designed product that provides a clean and consistent intranet experience for employees and admins alike. It builds nicely on SharePoint standards while continuing to add value as a well-rounded, mature product that continues to improve. – ClearBox Consulting, 2021
Valo's Clearbox prijzenkast
Als Premium partner zijn we trots dat Valo opnieuw bij de meest aanbevolen intranetten van dit onderzoek hoort. Het is goed om te zien dat onze partner zoveel erkenning krijgt voor het social intranet (en nog veel meer) dat zij aanbieden. Vorig jaar benadrukte ClearBox al het gemak waarmee Valo content creëert en prijst hen in vergelijking met het aantal functies dat Valo in hun omvangrijke intranet aanbiedt. Valo Intranet is een volwassen, maar constant verbeterend product dat veel verschillende industrieën en organisaties aanspreekt. Mooie woorden!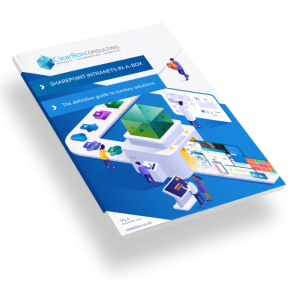 ClearBox consultancy
ClearBox heeft een onafhankelijk beoordelingsrapport: 'in-a-box producten van SharePoint intranet'. In dit rapport behandelen ze meer dan 55 producten met als doel hun doelgroep te laten zien hoe SharePoint (on-premises en online) kan worden omgezet in een volledig uitgeruste intranet en samenwerkingsomgeving. Handig als je al met Microsoft 365 werkt en deze tools wil combineren met een goed functionerend intranet. De uitgebreide gids laat je kennismaken met de intranetoplossingen voor SharePoint en Office 365. Hierin worden de kenmerken, voordelen van de oplossingen uitgelegd en beoordeeld a.d.h.v. veel voorkomende bedrijfsscenario's. De beoordelingen in dit rapport zijn zoals al eerder gezegd onafhankelijk, evenwichtig en eerlijk. Zo kan de lezer de functionaliteiten en sterke punten goed in overweging nemen en vergelijken.
Is Valo het intranet dat bij jouw bedrijf past? We helpen je graag in deze overweging, als partner hebben we tientallen intranetten mogen verzorgen. We hebben alle Microsoft en Valo kennis in huis om jou verder te helpen in jouw zoektocht naar het beste intranet.
Is Valo Intranet iets voor jouw organisatie?
Wij adviseren je graag en laten je graag zien hoe Valo werkt met een persoonlijke demo. Of stel je vragen via het contactformulier, we helpen je graag verder.