Beveilig jouw bedrijf met Microsoft 365

Bescherm je bedrijfsgegevens en daarmee je reputatie. Niets is belangrijker dan de belangrijke gegevens van jouw bedrijf binnen jouw bedrijf te houden. Beveilig daarom je gegevens tegen externe bedreigingen met Microsoft 365 ingebouwde hulpprogramma's voor privacy en compliance. Zo bescherm je jouw bedrijf optimaal.
Waarom Microsoft 365 Security & Compliance?
Met Microsoft 365 beveilig je je hele bedrijf tegen potentiële bedreigingen. Functies voor bedreigingsbescherming zijn opgenomen in alle Microsoft 365-abonnementen; Sommige abonnementen bevatten echter meer geavanceerde functies.
In de video hiernaast wordt meer duidelijk over de verschillende functies van de beveiliging en compliance binnen Microsoft 365. Ga vandaag nog aan de slag en bescherm jouw bedrijf tegen potentiële bedreigingen.
Veiligheidsmaatregelen
Vanzelfsprekend kunnen we je als c)solutions volledig ondersteunen op dit gebied. Maar we zullen eerste meer uitleg geven over de veiligheid binnen Office 365. Standaard zijn er al een aantal veiligheidsmaatregelen voor je genomen:
Data is versleuteld in opslag en tijdens transmissie.
Data blijft altijd privé en wordt nooit gebruikt voor advertentiedoeleinden.
Er wordt automatisch een back-up gemaakt van data en de gegarandeerde uptime is 99,9%.
Je wordt geholpen bij de overdracht van jouw data zelfs als je besluit de service te beëindigen.
Je weet altijd waar jouw data wordt gehost, en dat is altijd in jouw geografische regio.
Privacy-instellingen en -voorzieningen kunnen worden aangepast aan jouw behoeften.
Met Customer Lockbox heeft jouw IT-team (niet Microsoft-engineers) expliciete controle over jouw data.
Advanced Threat Protection scant 100% van jouw e-mails op virussen voordat ze in jouw inbox worden bezorgd.
Met Mobile Device Management kan jouw IT-team bedrijfsinformatie op afstand wissen van kwijtgeraakte of gestolen devices.
Microsoft Secure Score
Microsoft Secure Score is een meting van de beveiligingshouding van een organisatie, met een hoger aantal dat aangeeft dat er meer verbeteracties zijn uitgevoerd. Het volgen van de aanbevelingen voor beveiligingsscore kan uw organisatie beschermen tegen bedreigingen. Vanuit een gecentraliseerd dashboard in het Microsoft 365-beveiligingscentrum kunnen organisaties de beveiliging van hun Microsoft 365-identiteiten, gegevens, apps, apparaten en infrastructuur bewaken en eraan werken.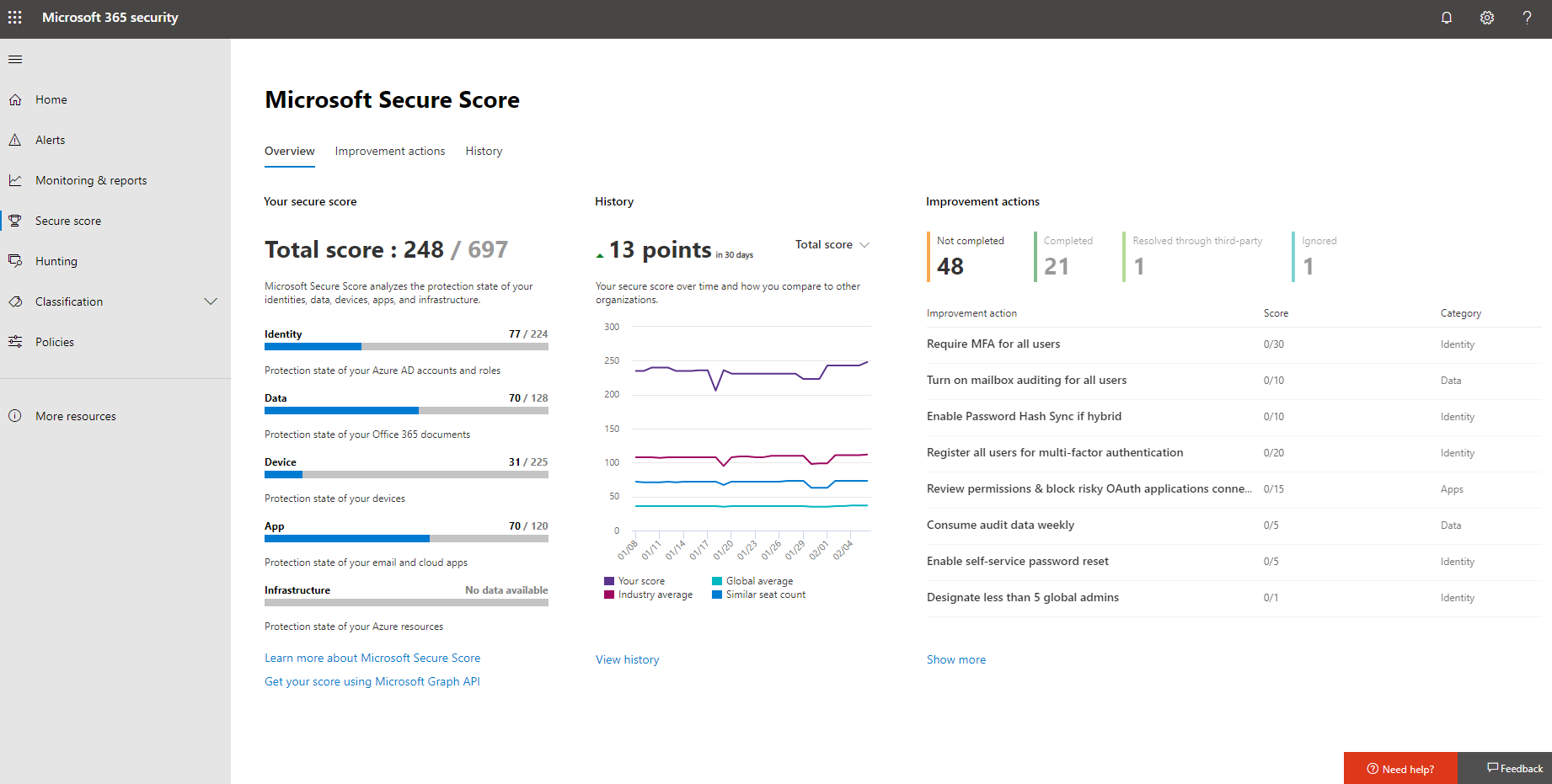 Secure Score helpt organisaties met:
Rapport over de huidige status van de beveiligingshouding van de organisatie.
Verbeter hun beveiligingshouding door vindbaarheid, zichtbaarheid, begeleiding en controle te bieden.
Vergelijk met benchmarks en stel key performance indicators (KPI's) vast.
Organisaties krijgen toegang tot robuuste visualisaties van statistieken en trends, integratie met andere Microsoft-producten, scorevergelijking met vergelijkbare organisaties en nog veel meer. De score kan ook worden weergegeven wanneer oplossingen van derden aanbevolen acties hebben aangepakt.
Vraag advies
Twijfel je of je Office 365 goed beveiligd is?  Op zoek naar een nulmeting? Vraag een security assessment aan van je Office 365 pakket.
We beoordelen dan wat de huidige status van de beveiliging is . Er zijn vier belangrijke vragen als het gaat om veiligheid binnen Office 365 die we samen gaan beantwoorden in ons Security Assessment:
Hoe is de veiligheid rondom identiteit en toegang (gebruikers en hun accounts) ingeregeld?

Cyberbeveiliging: Hoe ben je beveiligd van bedreigingen van buiten af?

Bescherming van gegevens: Hoe zorg je voor veilige opslag van je data?

Hoe kun je effectief veiligheid beheren vanaf een heldere nulmeeting?