Microsoft Teams: het laatste nieuws van 2020
Microsoft Teams doet er alles aan om te verbeteren en om uit te breiden. Ze hebben namelijk ruim 75 miljoen dagelijkse gebruikers. Teams is hét platform om te communiceren. Wat ideaal is, is dat je naast het online vergaderen ook een manier hebt om samen te werken. Teams brengt chat, vergaderingen, bellen, bestandssamenwerking en apps die je nodig hebt, allemaal op één plek samen. Wij vertellen jou de nieuwe Teams Apps die jouw dagelijkse werkdag nog gemakkelijker gaan maken. 
Breakout Rooms
Break-out rooms is één van de nieuwe mogelijkheden binnen Microsoft Teams. Er was veel animo naar de functie aangezien het bij Zoom al gebruikt kon worden. Met break-out rooms kun je deelnemers van een online sessie in kleinere groepjes laten werken. De mogelijkheden zit in veel webconferencing tools zoals Adobe, Connect, Zoom en meer. Erg handig voor bijvoorbeeld studenten, maar ook in projectgroepen kan het goed werken.
Achtergrondgeluiden
Microsoft Teams krijgt nog een uitstekende functie erbij. Deze functie zorgt ervoor om achtergrondgeluid tijdens vergaderingen te verminderen. De ruisonderdrukkingsfunctie van Microsoft Teams wordt verbeterd om de achtergrondruis te verwijderen. Deze functie kan bijvoorbeeld microfoonproblemen en andere ongewenste geluiden verminderen. Via de nieuwe instelling 'Hoog' zorg je ervoor dat de achtergrondgeluiden worden verminderd. 

Nieuwe templates
In Teams was het al langer mogelijk dat je templates kon gebruiken. Hierdoor is er steeds meer informatie beschikbaar. Met templates in Teams maken gebruikers vooringestelde teams aan. Maar nu kun je als gebruiker ook zelf teams aanmaken, tenzij de organisatie dat heeft uitgeschakeld. Je kunt zelf kiezen om een team aan te maken of het kopiëren van de structuur van een ander team.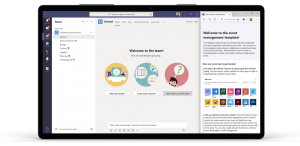 Switchen tussen devices
Wil je van je telefoon naar je laptop switchen als je in een vergadering zit? Dat kan! Je kunt namelijk naadloos schakelen wanneer je in een Teams-vergadering zit zonder dat iemand dat doorheeft. Zit je in een vergadering op je computer maar wil je het liever vanuit je telefoon volgen? Klik dan binnen de Teams app op 'deelnemen' bovenaan het scherm en je zit weer in de vergadering. Niemand die het door heeft! Ideaal toch?
Ontdek Microsoft Teams
Wil je meer weten over Microsoft Teams? Bekijk nu alle mogelijkheden.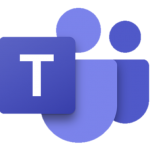 Notificatie instellen
Teams biedt jou verschillende manieren tot het instellen van notificaties. Één daarvan is om jou nog meer veiligheid te verzekeren. Je kunt nu in Teams berichtenvoorbeelden in je bureaumeldingen uitschakeling, want die zijn namelijk standaard ingeschakeld. Naast het gebruiken van meer privacy kun je ook teamsjablonen instellen. Die worden speciaal gebruikt voor jouw bedrijfstak. Een voorbeeld van zo'n sjabloon is het inwerken van nieuwe werknemers.
Video opslag
Je kunt alle Teams vergaderingen op oproepen opnemen. Zo heb je alle audio, video en het delen van je scherm binnen handbereik. De video wordt opgeslagen in de cloud zodat je het veilig kunt delen binnen je organisatie. Je kunt ook de video's opslaan in Microsoft Stream. Dit is een videoservice waarmee je ervoor kunt zorgen dat personen binnen jouw organisatie veilig video's uploaden, bekijken en delen. De video's die opgeslagen zijn met Microsoft Stream komen in OneDrive of in een SharePoint-documentenbibliotheek in Microsoft 365. Meld je hiervoor eerst wel even aan!
Forms/enquête in je vergadering
Sinds kort is het mogelijk om een enquête of forms aan te maken in een vergadering. Deze functie staat al aan in Teams en kun je per kanaal een enquête of een form maken. Dut kun je plaatsen als reactie op een gesprek. Door bijvoorbeeld een poll aan te maken kun je makkelijk en snel zien wat de reacties zijn van je teamleden.
Van mail naar Teams
Ook is het mogelijk om te mailen van Outlook naar Teams. Vanaf nu kun je ook een mail via Outlook versturen naar het kanaal in Teams. het enige wat je hiervoor moet doen is het e-mailadres gebruiken van het kanaal waar de mail heen moet. In dit geval is dat Microsoft Teams. Zodra dat een onderdeel is in het kanaal kan iedereen het beantwoorden om een gesprek te beginnen.
New Together Mode scenes
Last but not least: de nieuwe Together Mode scenes. Feestdagen en de kerstborrels op kantoor zien er dit jaar anders uit dan normaal. Er was dan ook veel vraag naar contact maken met je collega's om samen de feestdagen te vieren. Zo kondigt Microsoft Teams de nieuwe ervaringen aan waaronder: De nieuwe scénes met de Samen-modus met kerstthema en aangepaste achtergronden. Ook kondigen ze de beschikbaarheid aan van brainstormruimten, die het gemakkelijk maken om te mixen en te mengen tijdens een virtueel vakantiefeest.
Wij hopen dat je nu helemaal up-to-date bent van de nieuwe mogelijkheden binnen Microsoft Teams, zodat je jouw werkdag nog beter kun invullen.
Meer informatie
Wil je alvast meer weten over Microsoft Teams? Eerder schreven we hier al een blog over. Hiernaast vind je een video met meer informatie, maar je kunt natuurlijk ook alvast contact met ons opnemen.