Bij veel van onze klanten zien we de behoefte naar een homogene, professionele inrichting van Teams en SharePoint omgevingen. Anders gezegd: elke organisatie die hier niet op stuurt, zal vroeg of laat een wildgroei krijgen van Teams. Teams zonder eigenaar, meerdere Teams die feitelijk hetzelfde doel hebben, onduidelijke naamgeving; grote kans dat dit in jouw organisatie al aan de orde van de dag is. De oplossing voor dit probleem heet provisioning. We organiseren daarmee een proces rondom het creëren, goedkeuren en beheren van Teams of SharePoint omgevingen.
Teams functionaliteit
Voor provisioning zijn vele mogelijkheden. Vanuit standaard mogelijkheden dient bijvoorbeeld een gebruiker een verzoek in via een Microsoft Form, waarna afdeling ICT een Team uitrolt vanuit een template. Zo reguleer je het aanmaken van nieuwe Teams en hebben ze vaker een zelfde opbouw en inhoud. Deze templates werken goed, maar kennen ook beperkingen. Zodra het gebruik van standaard Teams templates niet voldoende is adviseren we vaak een custom oplossing via Power Platform en third party oplossingen, zoals Sharegate of Orchestry.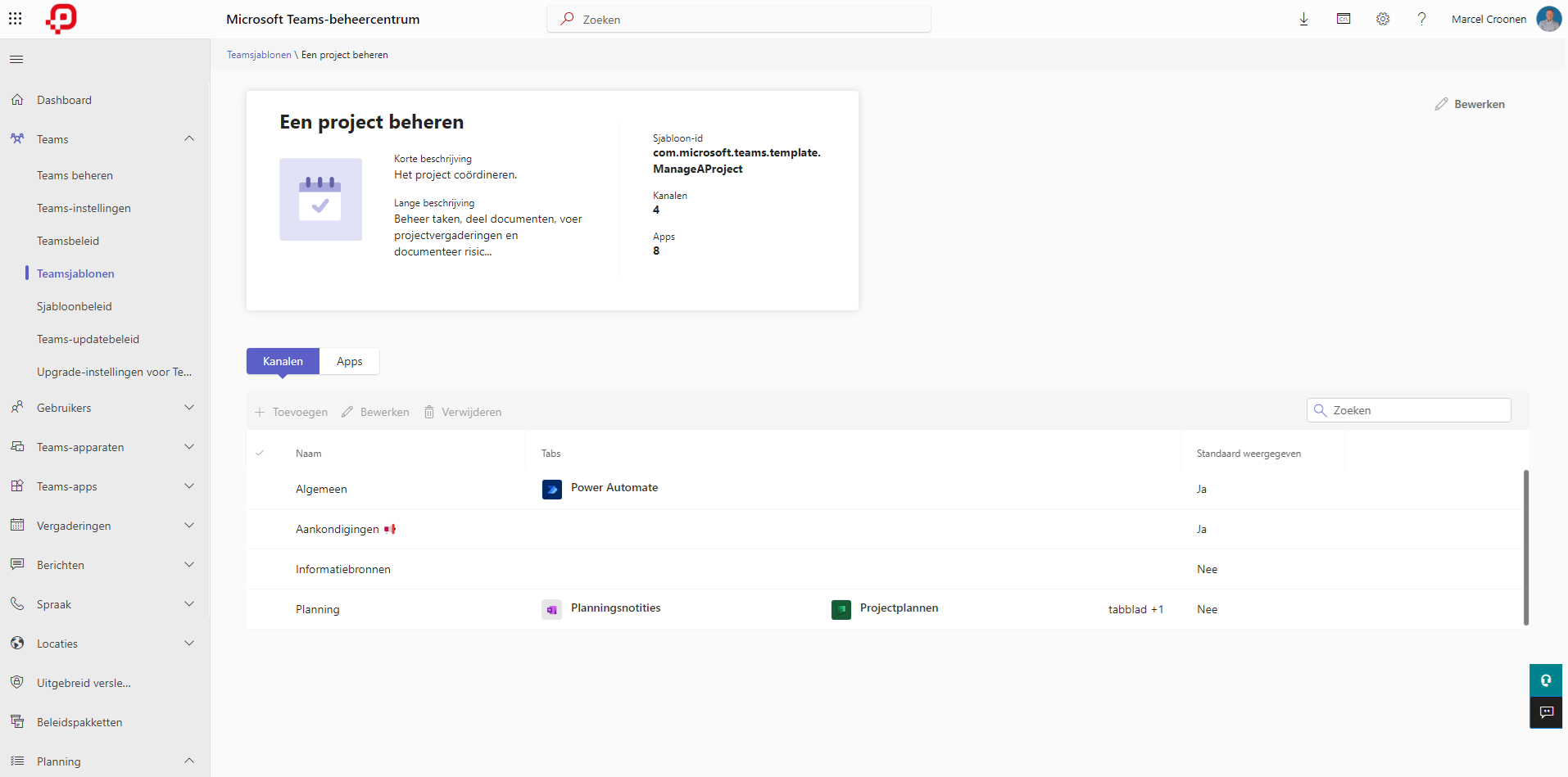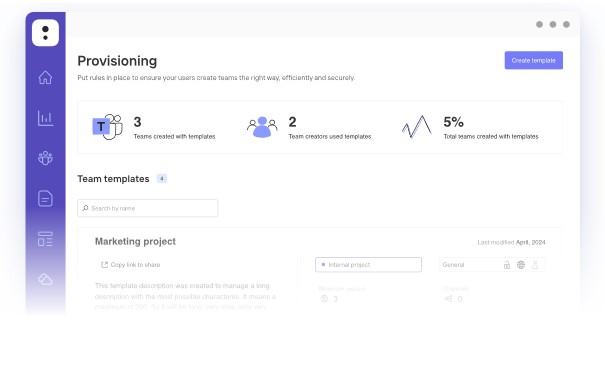 Een andere functie van Sharegate provisioning is de Sharegate eindgebruikersapp in Microsoft Teams. Deze app geeft eindgebruikers een ruimte waar ze teams kunnen maken vanuit sjablonen en al hun teams kunnen zien waarvoor ze eigenaar of lid zijn. De app helpt ook bij het onderhouden van de teams door eigenaren te vragen om acties uit te voeren, zoals het archiveren of verwijderen van inactieve teams.
Provisioning via Sharegate is in veel gevallen een goede oplossing. De functionaliteit is overzichtelijk, wat zorgt voor een prima gebruiksvriendelijkheid, maar het kent ook beperkingen in meer geavanceerde wensen.
Een andere zeer interessante third party oplossing voor provisioning is Orchestry. De visie van Orchestry op provisioning is breder dan de visie van Sharegate. In dit geval ligt de focus op de hele life cycle van sites en Teams. Dit neemt niet weg dat de functionaliteit voor het aanmaken van Teams in veel situaties meer dan voldoende is.
Orchestry is – net als Sharegate – een breder product dan alleen provisioning. Waar Sharegate naast provisioning ondersteuning biedt voor content migraties, is Orchestry een zeer rijk product voor ondersteuning aan governance en adoptie. Dit onderwerp gaat iets voorbij aan het doel van deze blog, maar de functionaliteit op dit terrein is indrukwekkend!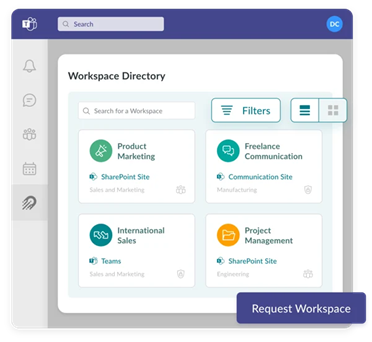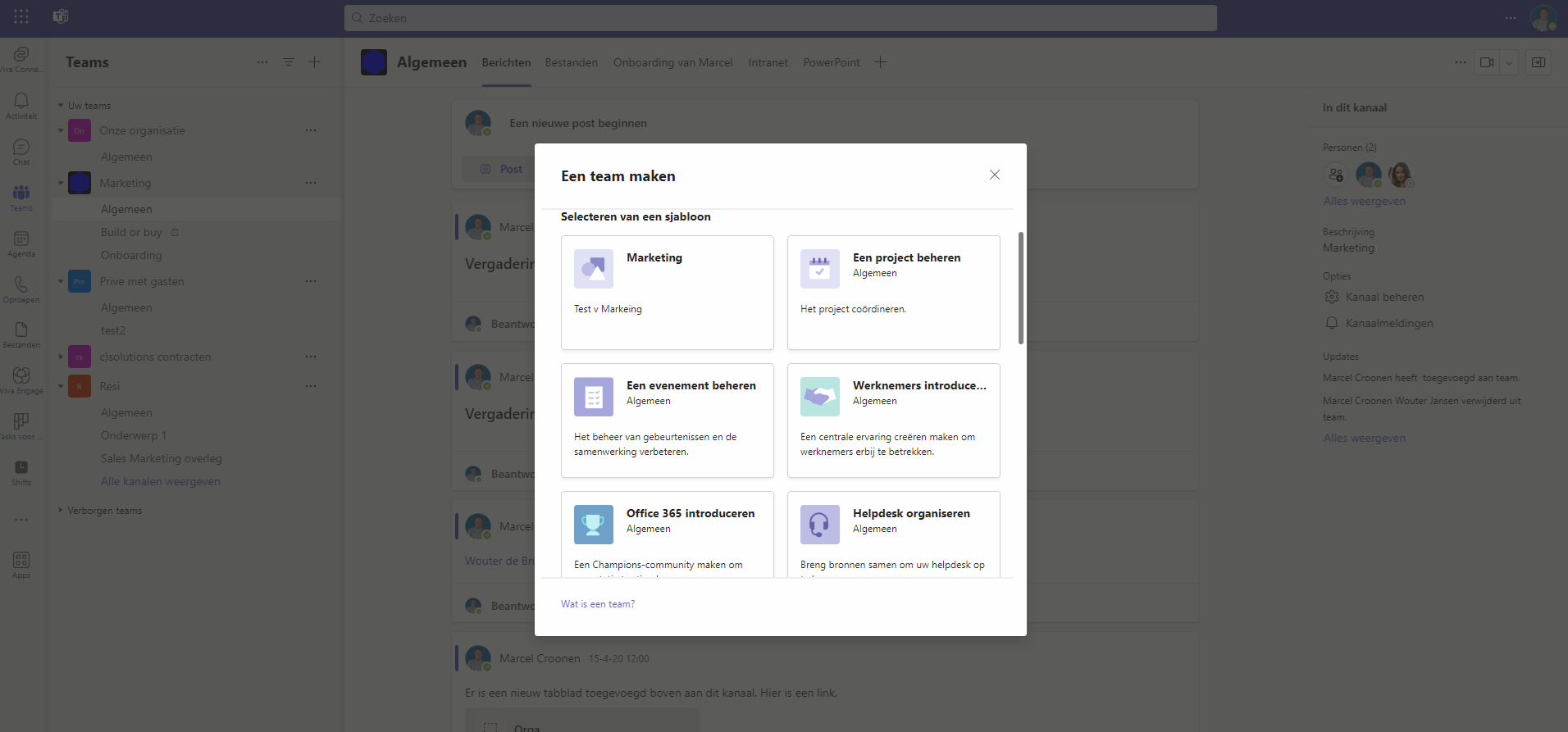 Power Platform
Bovendien kun je zelf provisioning inbouwen met Power Platform. Via Power Platform of Powershell zijn er vele mogelijkheden. Een groot voordeel hiervan is dat de oplossing perfect past is. Een nadeel is wel dat de kosten van deze optie flink kunnen oplopen.
Conclusie
De verschillende oplossingen hebben verschillende voor- en nadelen. We zetten ze voor je op een rij:
Even sparren?
In het algemeen kunnen we zeggen dat elke situatie rondom provisioning met zijn eigen wensen en eisen komt. Vaak speelt ook beschikbaar budget een rol in de keuze voor één van de oplossingen. We denken graag mee en adviseren over de best passende mogelijkheid in jouw organisatie. Plan nu een kennismaking met ons in om hierover te sparren.