Communiceren in de crisis
Veel bedrijven staan met de huidige crisis voor een moeilijke situatie. Hoe ga je om met werken op afstand en hoe zet je de informatiestromen om als alles plotseling digitaal gecommuniceerd moet worden? Daarom is het in deze tijd belangrijk dat iedereen snel op de hoogte kan zijn van belangrijke aankondigingen, instructies en nieuwe informatie. Valo introduceert daarom voor klanten een sjabloon voor crisiscommunicatie binnen jouw persoonlijke intranet.
Als je zoals nu noodgedwongen op afstand werkt zijn er communicatieoplossingen nodig om jouw bedrijf draaiende te houden. Bedrijven zetten nu massaal in op deze communicatietools. Kijk bijvoorbeeld naar de explosieve stijging in het gebruik van Microsoft Teams. In deze app kun je chatten, vergaderen, in teams werken en samen met collega's jouw benodigde bestanden openen en bewerken. Door deze tools te gebruiken blijft transparante communicatie door jouw hele organisatie mogelijk.
Het handige van Valo is dat het naadloos integreert met de Microsoft 365 apps. Zet jouw intranet in Teams of deel documenten via SharePoint of OneDrive. Wij helpen je graag bij de implementatie en adoptie van deze tools. Voor crisiscommunicatie is echter nog een extra stap nodig om duidelijk te communiceren.

Valo Crisiscommunicatie sjabloon
Het Crisiscommunicatie Site-sjabloon is gebouwd als startpagina in de bekende intranethub. Het sjabloon bestaat uit vooraf gebouwde webonderdelen met waarschuwingsnieuws, gericht nieuws, een Valo FAQ, People Finder, RSS-nieuws, evenementen, Quick Polls, Yammer, Power BI rapporten en social media.
Wij kunnen ervoor zorgen dat er ook een banner in het megamenu komt om meer aandacht van jouw medewerkers te trekken. De vindbaarheid wordt groter als je een duidelijke call-to-action toevoegt in het intranetmenu. Met de functie 'Belangrijke berichten' push je de berichten automatisch onder de menubalk. Het is ook mogelijk om opvallende afbeeldingen toe te voegen om de aandacht te trekken.
Handig voor alle mobiele gebruikers: de als "belangrijk" gemarkeerde berichten verschijnen automatisch als pushmeldingen op de devices van de intranetgebruikers. We kunnen dit snel voor je implementeren! Het sjabloon is zo ontworpen dat je direct alle medewerkers bereikt met deze manier van crisiscommunicatie.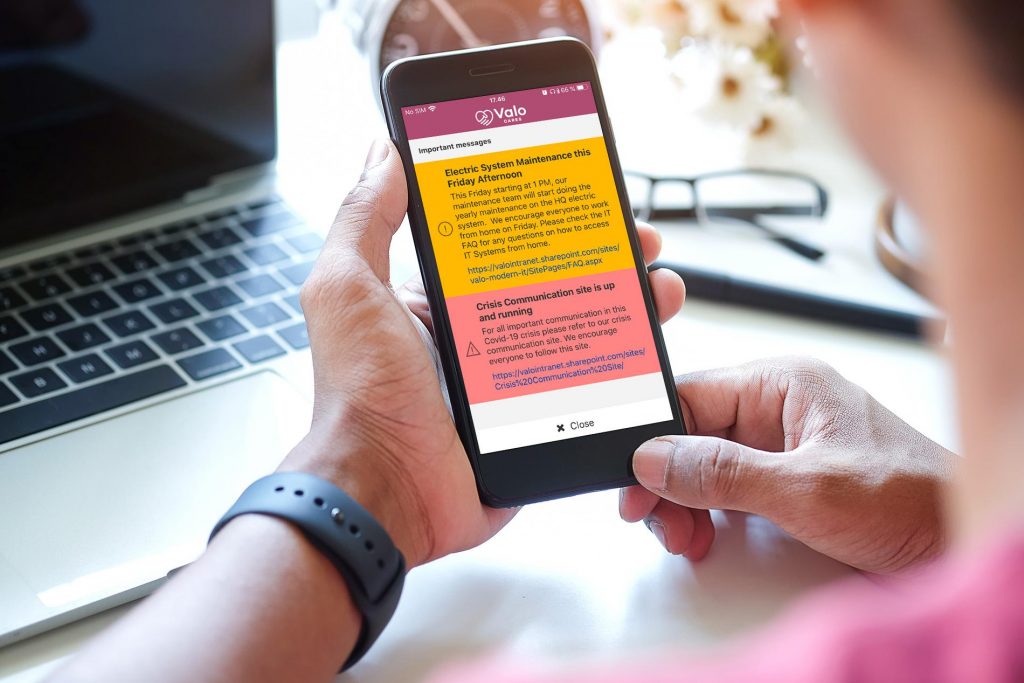 Tips voor crisiscommunicatie
Onze partner Valo heeft nog een aantal tips opgesteld om het beste uit jouw crisiscommunicatie en het op afstand werken te halen. Zorg ervoor dat je medewerkers betrokken blijven en dat je elkaar blijft spreken.
1
Gebruik alleen waarschuwingen als het echt nodig is;
2
Bekijk jouw statistieken om te kijken wat goed werkt;
3
Segmenteer en target de doelgroep. Kijk bijvoorbeeld naar taal en inhoud per functie;
4
Maak je artikelen nuttig door bijvoorbeeld tags toe te voegen en door te sturen naar FAQ;
5
Zorg voor een kanaal waarbij je samen een pauze of borrel kunt houden;
6
Zet een crisicommunicatiehub op waar je alle belangrijke informatie bundelt;
7
Creëer een speciale ruimte voor gezondheid en welzijn. Moedig alle gebruikers aan om hun tips over geestelijke gezondheid te delen;
8
Werk met mobiele push-notificaties, maar doe dit met beleid;
9
Zorg voor up-to-date informatie over richtlijnen, manieren van werken en met wie je contact kunt opnemen voor verdere vragen. Geef ook tips voor werken op afstand;
10
Bundel alle handige links, zodat mensen snel kunnen schakelen naar platforms of apps;
11
Breng positiviteit! Vooral nu willen mensen zich gewaardeerd voelen. Gebruik bijvoorbeeld shout-outs op Yammer of Praise in Teams om elkaar te complimenteren;
12
Verbeter de zoekfunctie door te optimaliseren of het menu aan te passen;
13
Maak het werk socialer. Ook jouw medewerkers zijn gewend om in hun vrije tijd social media te gebruiken. Maak bijvoorbeeld leuke en interactieve hashtags in Yammer zoals #HomeOfficeFails waarbij mensen met elkaar bespreken wat er moeilijk is of wat juist werkt;
14
Maak vooraf opgenomen video's en webinars voor het personeel. Denk aan managers die ondersteunende berichten delen met hun team of extra uitleg over apps waarmee jouw bedrijf werkt. Het laat zien dat we hier allemaal samen in zitten wat de betrokkenheid van de medewerkers versterkt. Tip: werk je met Teams? Wij publiceerden eerder een startgids voor Teams-nieuwelingen.
Wil jij ook een crisiscommunicatie site opzetten binnen jouw Valo intranet? Op ben je op zoek naar een nieuw intranet dat je snel als crisiscommunicatie platform kunt gebruiken? Als Valo premium partner helpen we je graag verder. We kijken samen naar jouw wensen voor een social intranet waarbij we het crisiscommunicatie sjabloon kunnen implementeren.
Meer weten over crisiscommunicatie binnen Valo? Neem snel contact op!