Modern SharePoint VS. Valo Intranet
Valo werkt op de basis van SharePoint, maar wat zijn nu eigenlijk de grootste verschillen als het gaat om een modern intranet? We kijken naar de gebruiksvriendelijkheid, het design, het thema en de functionaliteiten. Maak jij al gebruik van een modern intranet?
SharePoint Online
Voor het design van de navigatiekolom is het nog niet volledig mogelijk om jouw eigen huisstijl volledig te integreren. Zo kun je drie levels in je menubalk aangeven en is het centraal geregeld waardoor voor iedereen de menubalk hetzelfde is.
Het aanpassen van het thema en de kleuren van jouw intranet gaan bij SharePoint via PowerShell. Het is nog niet mogelijk om een live preview te krijgen als je met het thema bezig bent. Daarbij is het voor elke site of pagina nodig om dit handmatig aan te passen.
Qua gebruiksvriendelijkheid is SharePoint vrij makkelijk ingedeeld. Met de 'new' button linksboven kun je snel nieuwe content naar keuze aanmaken. Het is ook mogelijk om out-of-the-box standaard SharePoint functionaliteiten te gebruiken. Gebruik SharePoint templates voor vaak terugkerende items, zo hoef je niet steeds opnieuw een pagina of blok op te maken.
Valo Intranet
Met Valo kun je een oneindig aantal van links doorvoeren in je menubalk. Je kunt zelfs vier verschillende levels toevoegen en de navigatie en footer zijn compleet aanpasbaar aan jouw huisstijl. De breadcrumb is ook geïntegreerd.
Via de Lightsaber tool binnen Valo is het mogelijk om thema's direct in SharePoint te integreren. Het is makkelijk om kleuren te kiezen door een simpele interface. Zo kun je ook in een live preview zien hoe jouw ontwerp eruit ziet en is het centraal te regelen waardoor alle pagina's in jouw gekozen thema verwerkt worden.
Valo is gebruiksvriendelijker omdat het overzichtelijke buttons heeft die voor zich spreken. De contentcreatie button is altijd zichtbaar door de Valo Toolbox. Je kunt hier de SharePoint out-of-the-box functies gebruiken maar er zijn ook veel extra's ingebouwd. Denk hierbij bijvoorbeeld aan event pages, alerts, polls en meer! Je kunt ook met meerdere templates per item werken.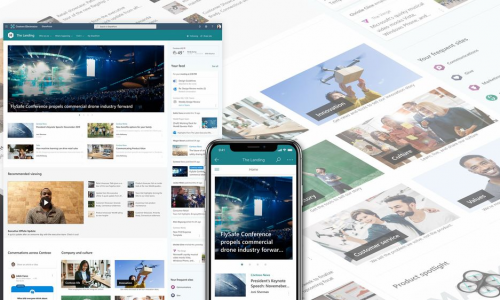 Microsoft heeft aangegeven al een tijdje bezig te zijn met het maken van een vertaalsysteem binnen SharePoint Online. Ze hopen daarmee in 2020 live te gaan, maar hier is nog geen concrete datum benoemd.
SharePoint Online heeft zeker veel voordelen, maar loopt tegenover de verrijkingen van Valo nog wel achter de feiten aan. Het mooiste is een combinatie van de handigheid achter SharePoint als Document Management Systeem en SharePoint als samenwerkingsplatform waarop je in een veilige omgeving digitale informatie, bestanden en projecten kunt opslaan, delen en managen.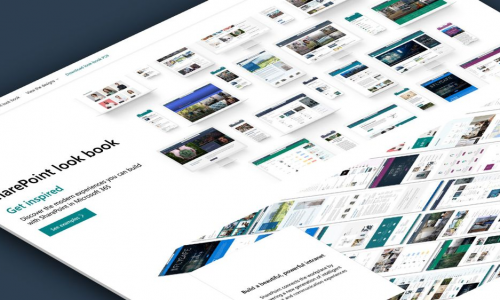 Valo demo
Maak je digitale werkplek compleet met Valo. Wil jij meer te weten komen over Valo en hoe dit er voor jouw bedrijf uit kan zien? In onze gratis demo leggen we je de belangrijkste functionaliteiten uit en laten wij zien hoe Valo werkt.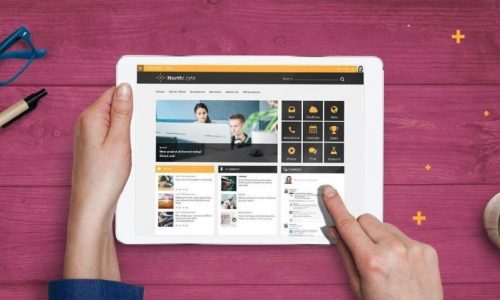 Het grootste voordeel van Valo tegenover het 'normale SharePoint' is dat je bijna alles kunt personaliseren. Zo kun je bijvoorbeeld zonder moeite in elke pagina een social media feed toevoegen. Valo verrijkt de functionaliteiten van SharePoint en Office 365 met unieke ideeën. Daardoor hebben zij een aantal voordelen die SharePoint zelf niet heeft.
Intranet: personaliseer je menu per medewerker. Bovenin kunnen belangrijke alerts aan gezet worden, hierdoor valt het meer op. Bespaar ruimte op je startpagina door extra tabs toe te voegen. Zo kunnen medewerkers wel makkelijk doorklikken maar is niet alles zichtbaar. Het is mogelijk om snel een FAQ aan te maken met filters. Maak ook interne vacatures aan. Maak extra hubs om jouw events, nieuws en zoekopdrachten beter te organiseren.
People Finder: Valo heeft verschillende webparts die aan jouw medewerkers (Microsoft Delve) gekoppeld zijn. Maak een people finder, smoelenboek, showcase en verjaardagen aan om jouw bedrijfsintranet te personaliseren.
Analytics: Met Valo analytics heb je inzicht in hoe medewerkers jouw intranet gebruiken. Check welke nieuwsberichten pagina's of documenten populair zijn en gebruik deze inzichten. Het is makkelijk te integreren met Google Analytics en met Azure en Power BI om goede rapporten te maken.
Meertaligheid: Met de Valo toolbox is het makkelijk om jouw pagina's in meerdere talen te creëren. Een gebruiker kan in één oogopslag zien welke vertalingen nog missen. Op dit moment is Valo Intranet beschikbaar in 29 verschillende talen, waarbij je bovenin snel kunt schakelen naar de beschikbare taal.
Valo heeft nog drie unieke functies waardoor zij veel awards wint.
Teamwork: Met de Teamwork module binnen Valo kun je in jouw SharePoint groepen samenwerken. Zo blijf je binnen de Valo omgeving, maar kun je samenwerken via SharePoint, Teams, OneDrive, Planner en Yammer.
Idea Management: Met Idea Managemt van Valo kun je op een speelse manier de ideeën van medewerkers voorleggen als verbeterpunten. Zo heeft iedere medewerker een stem in jouw bedrijf!
Valo binnen Microsoft Teams: Het testen is al begonnen, maar binnenkort gebruik je jouw Valo Intranet binnen Microsoft Teams. Zo kun je alles beheren binnen Teams en optimaal samenwerken.
Een combinatie van Valo en SharePoint is dan ook het beste. Valo bouwt al hun functionaliteiten bovenop SharePoint online en daarom integreert het goed met de Microsoft solutions. Zo wordt samenwerken en communiceren met alle medewerkers nog makkelijker. Bouw ook jouw digitale werkomgeving met SharePoint, Valo en Office 365.
Meer weten over de implementatie van een social intranet van Valo? Download dan nu onze whitepaper of neem contact op!