Begin februari hield Valo hun jaarlijkse partner event in Helsinki. Als Premium Partner waren wij aanwezig om de nieuwste updates te ontdekken. We zijn het jaar fris begonnen in Finland en delen graag de belangrijkste updates voor Valo 2020 met jou.
Jouw intranet binnen Microsoft Teams
Je kunt al een tijdje met Teams werken in Valo door de integratie met Teamwork. Een aantal van onze klanten werkt hier al mee. De nieuwste versie van Teamwork is erg veelbelovend. Voor Valo Teamwork komt er namelijk een app binnen Teams, waardoor je niet meer naar de browser hoeft om Teamwork te openen.
Binnenkort moet het ook mogelijk worden om het intranet te tonen in Microsoft Teams. Het is de bedoeling dat je het intranet gewoon binnen Teams kunt gebruiken, je de logo's en naam kunt aanpassen en de tabjes binnen Teams kunt inzetten als je eigen intranet menu-structuur. Valo is nog aan het kijken naar een verdere integratie met Microsoft Teams. Hierbij kan bijvoorbeeld gedacht worden aan het krijgen van notificaties binnen Teams bij nieuwe nieuwsberichten op het intranet.
Makkelijker van Valo Classic naar Valo Modern
Classic to modern Valo migration handbook
Ze zijn op het hoofdkantoor van Valo bezig met een tool waarbij je een Classic omgeving helemaal kunt omzetten naar een Modern intranet. Dus daarmee worden alle pagina's, alle nieuwsberichten en alle evenementen omgezet naar de Moderne variant. c)solutions gaat in samenwerking met Valo dit handboek als pilot uitproberen. We gaan het dus voor de eerste keer samen met Valo bij een van onze klanten uitvoeren. Dan zouden we vanaf de zomer de migraties van Valo Classic naar Valo Modern ook bij andere klanten kunnen gaan doen.
Makkelijker van Valo Classic naar Valo Modern
Ook bij de software van Valo is het nodig om regelmatig te blijven updaten, zodat je de nieuwste functies voor jouw intranet of extranet kan gaan of blijven gebruiken. Een belangrijke verandering voor Valo in 2020 is dat kleine bugfixes updates geautomatiseerd gaan worden. Je kunt hierbij zelf kiezen of je de bugfixes echt automatisch wil laten doen, je zelf wil instellen wanneer deze geüpdatete mogen worden, of je kunt deze gaan inplannen op de door jou gewenste tijd. Dit houdt in dat we veel minder bij klanten te hoeven updaten en dat dit minder tijd in beslag neemt. De update naar major releases (met nieuwe functionaliteiten) zullen nog wel op de huidige manier uitgevoerd moeten worden.
Een beter extranet
Valo is bezig met de ontwikkeling van een betere extranet omgeving. Je kunt eigenlijk een intranet gewoon inrichten als extranet door de link met SharePoint, maar er worden binnenkort speciale webparts voor gebouwd. Welke dat precies zijn is nog niet helemaal duidelijk. Wel is bekend dat Valo Entrance haar intrede doet. Daarmee kun je het toegangsproces voor externen vooral gebruiksvriendelijker maken (wat voor Microsoft zelf soms nog een uitdaging is), met een mooiere landingspagina die de benodigde links voor externen bevatten. In Office 365 is het zo dat je externen zelf moet uitnodigen om toegang tot het extranet te geven. Via Valo Entrance wordt het mogelijk om via een link mensen zichzelf te laten registreren via een speciale pagina. Dit zal vooral bij grote bedrijven handig zijn en een hoop kostbare tijd besparen.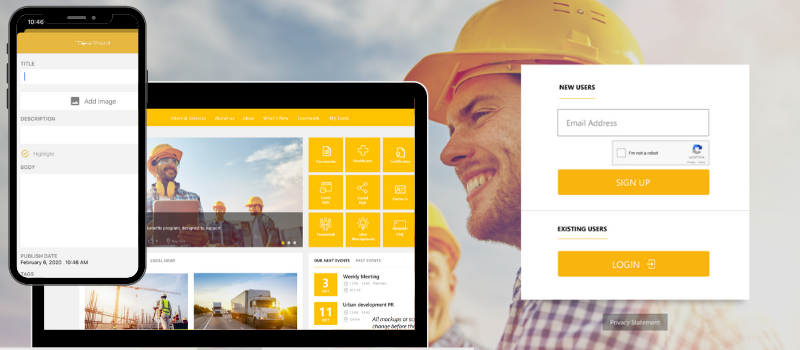 De belangrijkste mobiele updates
Binnen de mobiele app, waarmee je je eigen intranet mobiel kunt besturen, zijn ze bezig met verbeteringen zodat je ook vanaf je telefoon direct nieuws items kunt aanmaken. Je kunt daar een eerste snelle versie van je nieuwsbericht maken, waarbij je ook afbeelding, banner, tags kunt toevoegen. Het lijkt een beetje op social media, waarbij je ook mobiel je berichten snel kunt plaatsen. Voor de overige opmaak is het wel handig dit nog via desktop recht te trekken.
Het wordt ook mogelijk om deze app van een ander logo en een andere naam te voorzien. Hierbij kun je dit dus vervangen door bijvoorbeeld je bedrijfslogo of intranet huisstijl. Ook kun je bij de volgende grote update rekenen op de mogelijkheid om zelf in te stellen welk nieuws je in de mobiele app te zien krijgt. Als je bijvoorbeeld bij een groot bedrijf meerdere intranetten gebruikt omdat je verschillende divisies hebt, is het ook mogelijk in de app al het overkoepelende nieuws weer te geven.