Met SharePoint kun je verschillende sites aanmaken om te delen met collega's of externen. Door middel van webparts kun je eenvoudig en snel (zonder code) een website maken. Deze webparts vormen de contentblokken of bouwstenen van je pagina. Je kunt hiermee tekst, afbeeldingen, bestanden, video en meer toevoegen om jouw pagina op te bouwen.
SharePoint webparts
Het is heel makkelijk om webparts toe te voegen aan jouw SharePoint pagina. Daarvoor kies je eerst de SharePoint sitepagina die je wil aanvullen. Als je ingelogd bent, kun je rechtsboven een bewerkingsicoon vinden. Als je hierop klikt, kun je beginnen met het bewerken van je sitepagina.
Door middel van het plusje kun je één van de webparts kiezen. Door het drag & drop systeem kun je zo de gewenste contentblokken op je sitepagina plaatsen. Zo maak je in een handomdraai een mooie, responsive en gebruiksvriendelijke sitepagina.
Inmiddels zijn er via SharePoint veel verschillende webparts te vinden. Deze worden onderscheiden in verschillende categorieën. Dit zijn tekst, media en inhoud, ontdekking, communicatie en samenwerking, bedrijf en informatie, connectors en overige. Je kunt in SharePoint eigenlijk alle soorten content toevoegen die je kunt bedenken, omdat je uiteindelijk ook een html source kunt toevoegen. Maar alle webparts die nu beschikbaar zijn kun je volledig zonder code bedienen.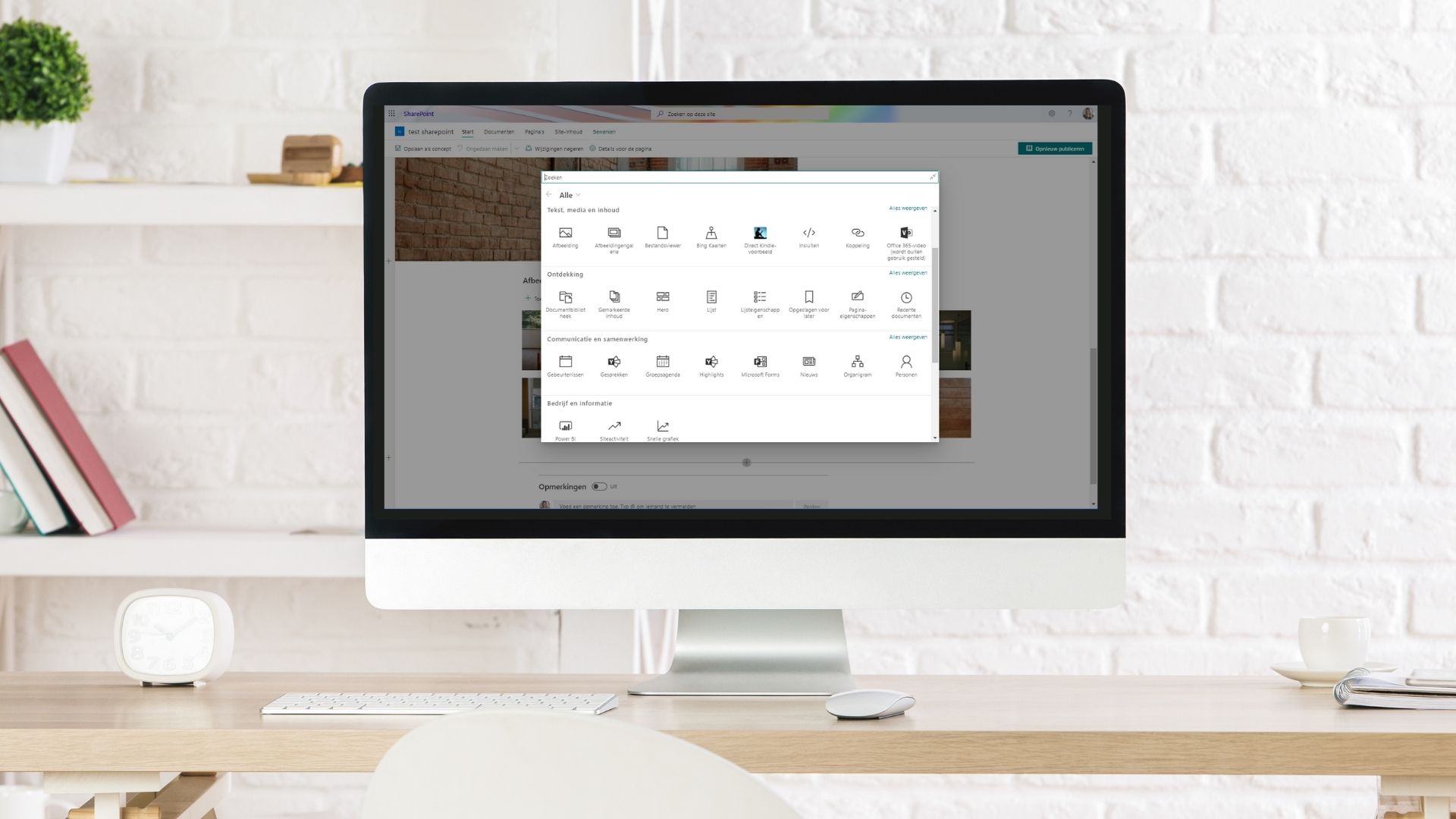 Ontdek alle voordelen in onze SharePoint whitepaper
Met SharePoint kun je alle kanten op, het is namelijk dé centrale plek waar al je Microsoft applicaties samenkomen. Het zorgt er ook voor dat al jouw bedrijfsinformatie op ieder soort devices beschikbaar is. Meer weten? Download dan nu vrijblijvend onze SharePoint whitepaper.
Nieuw webpart: organigram
Microsoft SharePoint blijft innoveren. Daardoor kun je regelmatig een nieuwe webpart vinden. Nieuw hierin is de organigram webpart voor SharePoint sitepagina's. Als je bijvoorbeeld een intranet hebt gebouwd in SharePoint, kun je met het organigram makkelijk laten zien welke collega's er aan een manager rapporteren.
We leggen je graag uit hoe deze webpart werkt en wat het toevoegt aan jouw pagina. Marcel neemt jullie mee in het aanmaken van het nieuwe webpart in jouw SharePoint sitepagina. Handig toch?
Wil je meer weten over de voordelen van SharePoint voor jouw organisatie?
Lees verder over SharePoint of stel jouw vraag aan Eric in ons contactformulier.