Microsoft Viva voor een nieuwe werknemerservaring
Microsoft heeft een nieuw medewerkersplatform gelanceerd. Microsoft Viva is naast een platform ook een nieuwe werknemerservaring. Hier komen communicatie, kennis, onderwijs, resources en inzichten samen. Met Microsoft Viva kun je je (digitale) bedrijfscultuur verbeteren waarin medewerkers en teams samenwerking, groei en welzijn combineren.
Microsoft Viva
Door de pandemie is de wereld sterk veranderd. Mensen in de frontlinie leveren uitzonderlijke prestaties en veel mensen die normaal op kantoor werken, werken nu vanuit huis. Medewerkers werken langer door en missen de connectie met collega's en het bedrijf. Uit onderzoek blijkt dat 60% van de medewerkers zich minder verbonden voelt met hun bedrijf en collega's. Het welzijn van medewerkers is een belangrijke factor in de algemene gezondheid van een organisatie. Bedrijven kunnen hun medewerkers helpen door tools aan te reiken die focussen op connectie, productiviteit en welzijn.
Om medewerkers betrokken en verbonden te houden met hun organisatie, is Microsoft Viva de nieuwste oplossing. Microsoft ziet dat er meer focus moet komen op medewerkersbeleving. Doordat mensen vanuit huis werken of met flexibele werkuren werken, is er ruimte voor nieuwe uitdagingen. De focus van bedrijven verschuift hierin naar een online medewerkersbeleving die bijdraagt aan de gezondheid en veerkracht van medewerkers en bedrijven.
Het is belangrijk om je medewerkers (ook op afstand) te blijven stimuleren. Microsoft Viva is een Employee Experience Platform (EXP). Deze levert digitale ondersteuning voor de systemen waarbinnen werknemers hun werk doen en biedt mensen de middelen en support om hun beste werk te leveren. Microsoft Viva is gebouwd op pijlers: samenwerken, leren en welzijn.
Combineer Valo en Microsoft Viva
"Valo is committed to leveraging the upcoming Microsoft Viva functionalities in all our products. Valo Intranet and Valo Connect beautifully align with Microsoft Viva. Our customers will benefit directly from the upcoming technical capabilities." – Pekka Walkama, Valo President
Microsoft Viva bestaat vooralsnog uit vier modules: Connections, Topics, Insights en Learning. Microsoft is op dit moment nog bezig met de uitrol van het complete pakket. In de komende maanden worden steeds meer functionaliteiten uitgerold. Naar verwachting is heel Microsoft Viva beschikbaar in Q3 van 2021.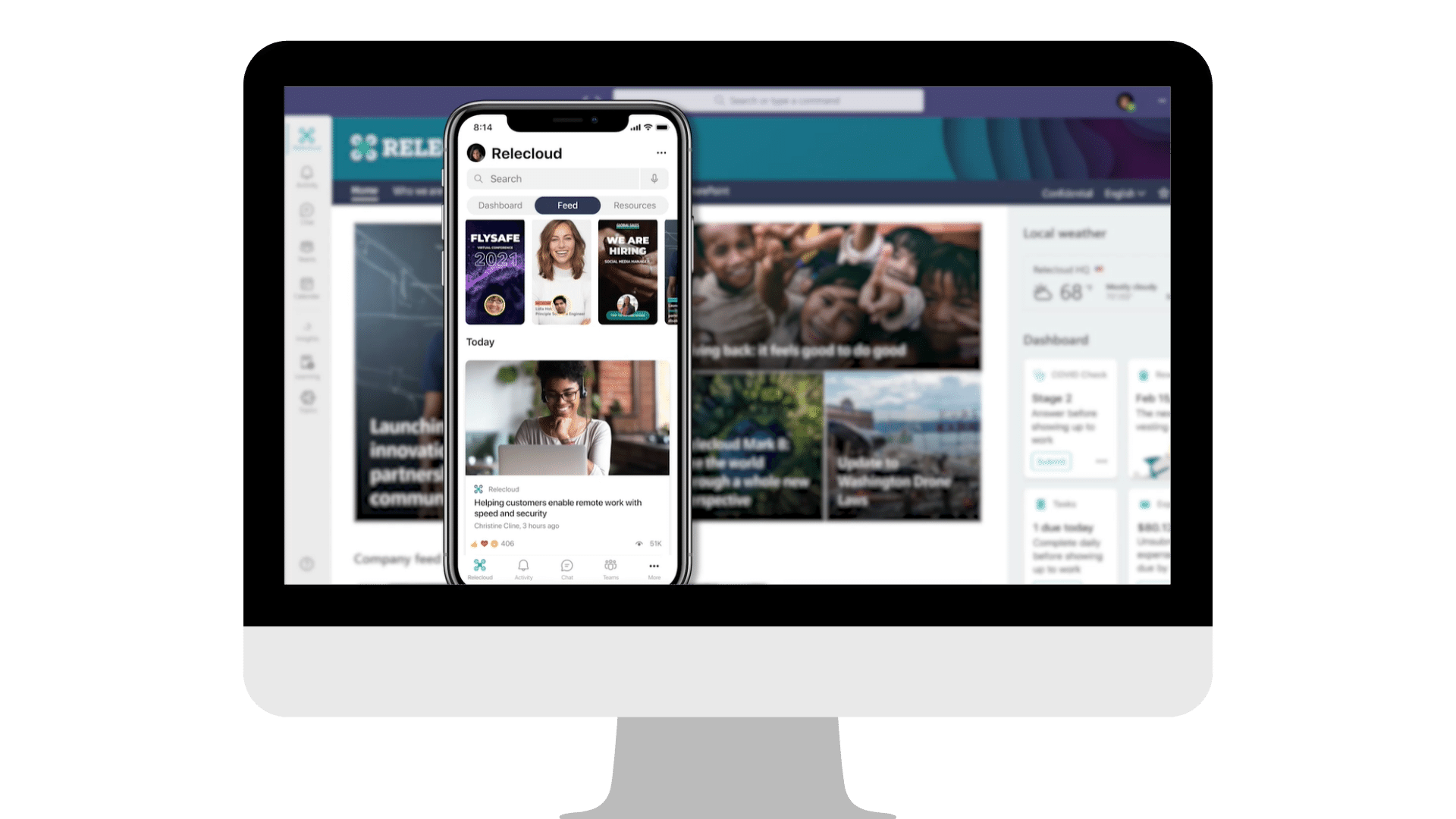 Viva connections
Viva Connections houdt iedereen verbonden doordat het het verzamelplatform is van Microsoft Viva. Door het platform te gebruiken blijf je geïnformeerd en betrokken bij jouw werk en bedrijf. Het lijkt deels op een intranet waarbij je in de feed nieuws, aankondigingen en gesprekken kunt vinden. Maar in het dashboard vind je nog veel meer bedrijfsmiddelen en tools om verbonden en betrokken te blijven bij de organisatie.
Blijf verbonden met collega's en betrokken bij de organisatie
Door te participeren in Viva Connections zorgt dit voor een inclusiever gevoel
Breng je organisatie samen en inspireer je medewerkers
Viva topics
Met Viva Topics is het niet meer nodig om op zoek te gaan naar kennis, maar kennis vindt haar weg naar jou. Vul een topic in en krijg automatisch antwoord met mensen, bronnen en gesprekken waarbij dit topic eerder naar voren is gekomen. Als je een vraag over het onderwerp hebt, kun je een vraag stellen waarbij AI wordt gebruikt om een expert op jouw onderwerp antwoord te laten geven. Met topics breng je kennis naar jouw medewerkers en kunnen ze makkelijk antwoorden vinden over hun werk of over de organisatie binnen één systeem.
Doorzoek topics en content in je hele Microsoft 365 omgeving
Maak informatie beschikbaar: door AI wordt Viva Topics een soort Wikipedia voor jouw organisatie
Als je in Teams over een onbekend woord hovert krijg je automatisch topic kaarten die jouw extra informatie geven over datgene waar je naar op zoek bent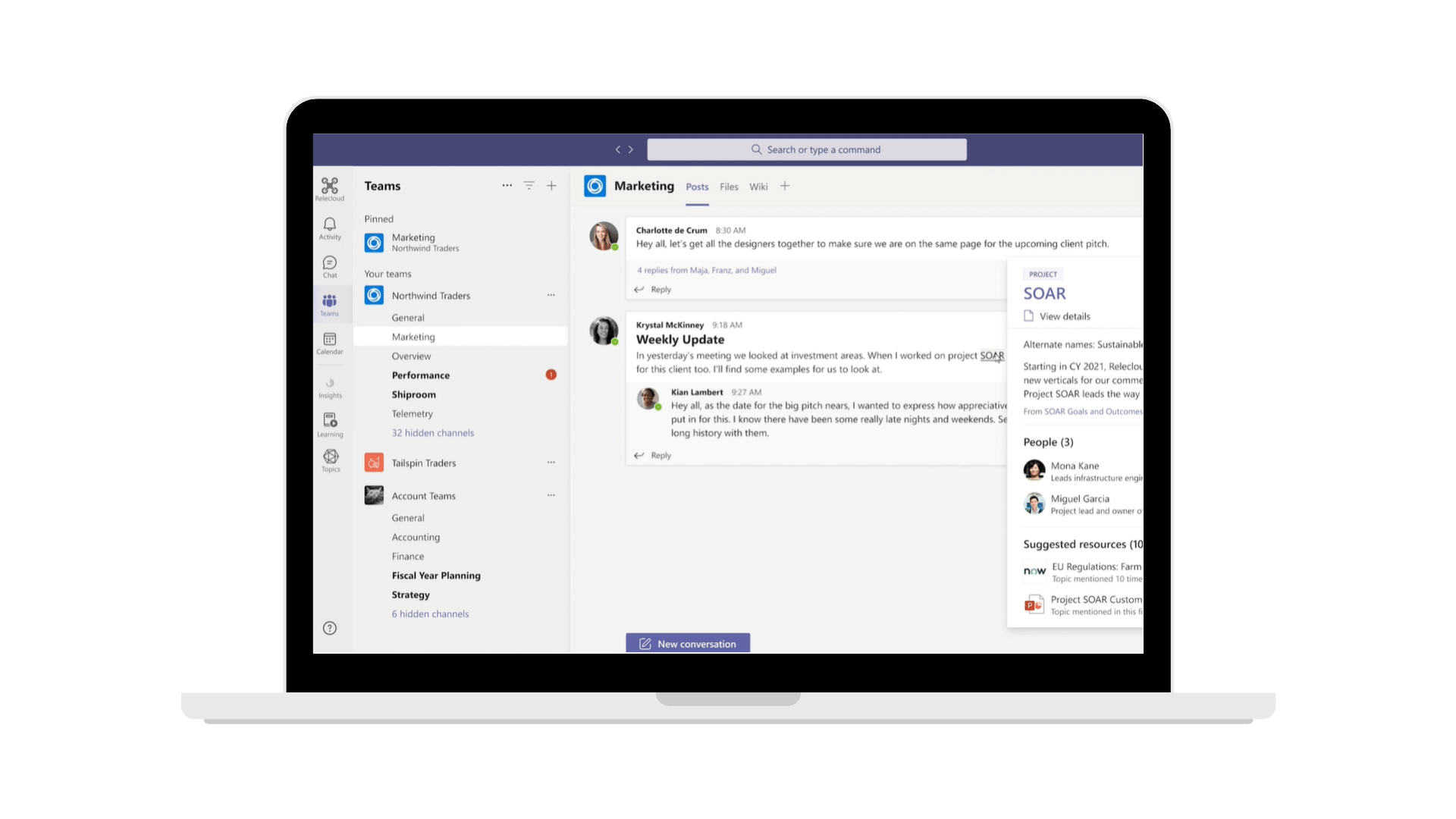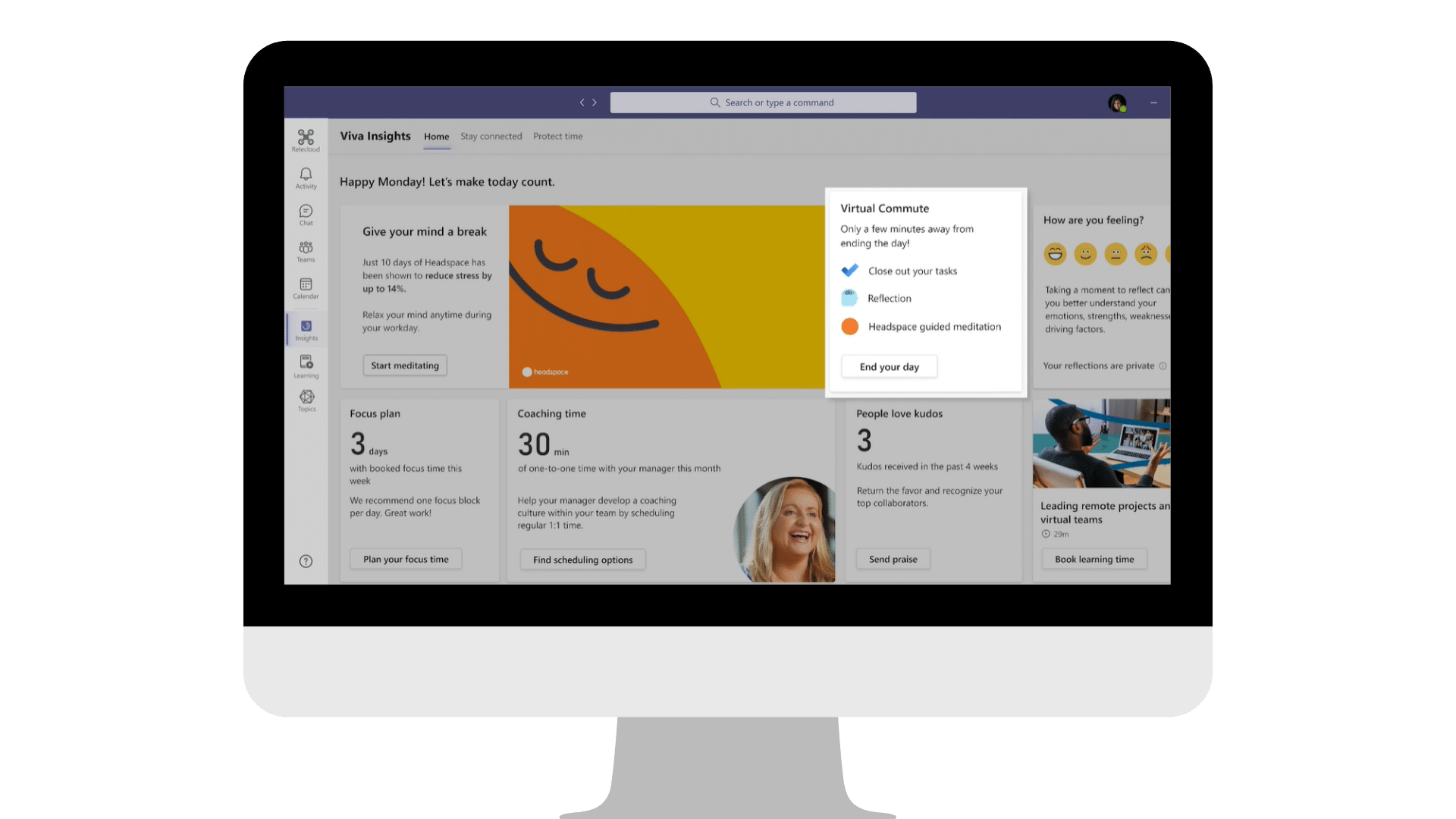 Viva insights
Viva Insights helpt bij het slimmer en productiever werken, zodat medewerkers niet langer door hoeven te werken. Het helpt bij de scheiding tussen werk en privé. Viva Insights vormt de balans tussen productiviteit en welzijn om beter te werken en eventuele burn-outs te voorkomen. Voor managers is het mogelijk inzicht te krijgen in het welzijn van je team. Zij kunnen actie ondernemen voordat mensen mogelijk een burn-out krijgen.
Maak plannen om meer gefocust en productiever te werken
Maak gebruik van reminders voor taken, reflectie en meditatie
Plan tijd in voor coaching en meditatie
Maak ruimte voor (persoonlijke) groei, ontwikkeling en training
Viva learning
Viva Learning is een platform dat alle lessen, cursussen, trainingen of andere informatie bundelt. De content die hierin beschikbaar is kan onder andere uit Microsoft Learn, LinkedIn Learnings en uit eigen beheer komen. Met Viva Learning zorg je ervoor dat leren en ontwikkelen onderdeel van de dagelijkse werkzaamheden worden. Het wordt makkelijker om bij te leren of te onboarden, omdat alles online beschikbaar is. Met Viva Learning ontwikkel je sneller vaardigheden en groei in je werk en als persoon.
Maak leren en ontwikkeling onderdeel van je werkdag
Door leren beschikbaar te maken, zal meer tevredenheid welzijn en succes ontstaan
Zorg als manager voor resultaten die er echt toe doen d.m.v. cureren, toewijzen en het tracken van cursussen of trainingen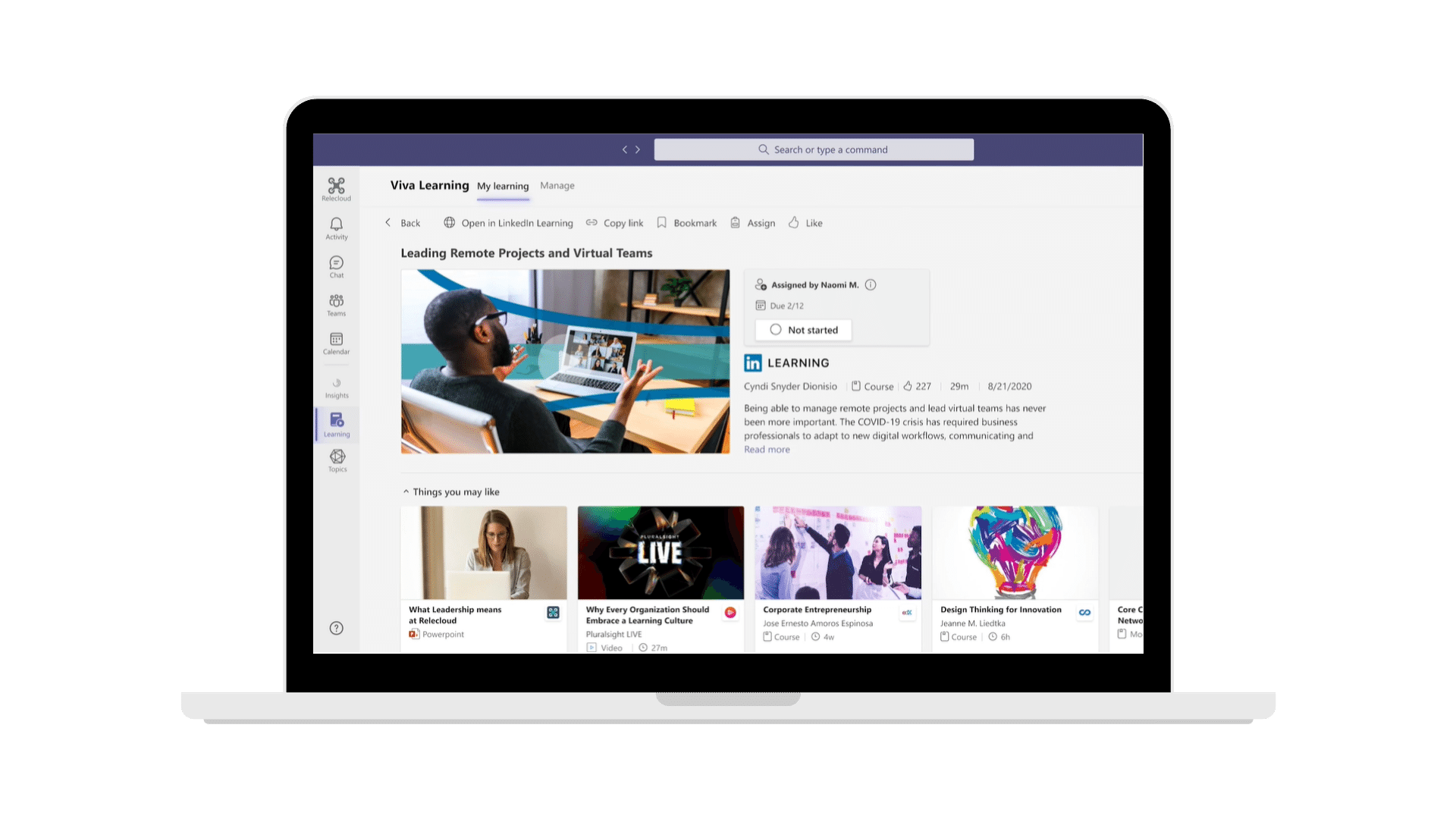 Wil je meer weten over de voordelen van Microsoft Viva voor jouw organisatie?
Microsoft Viva is aangedreven door Microsoft 365 en wordt gebruikt binnen Microsoft Teams en andere Microsoft 365 apps die medewerkers dagelijks gebruiken. Het is een open en uitbreidbaar platform dat als add-on beschikbaar wordt bovenop jouw Microsoft 365 abonnement.
Microsoft Viva is nog niet helemaal beschikbaar in Nederland, maar we vertellen je als Microsoft Gold partner graag alles wat je wil weten. Neem contact met ons op via het contactformulier!