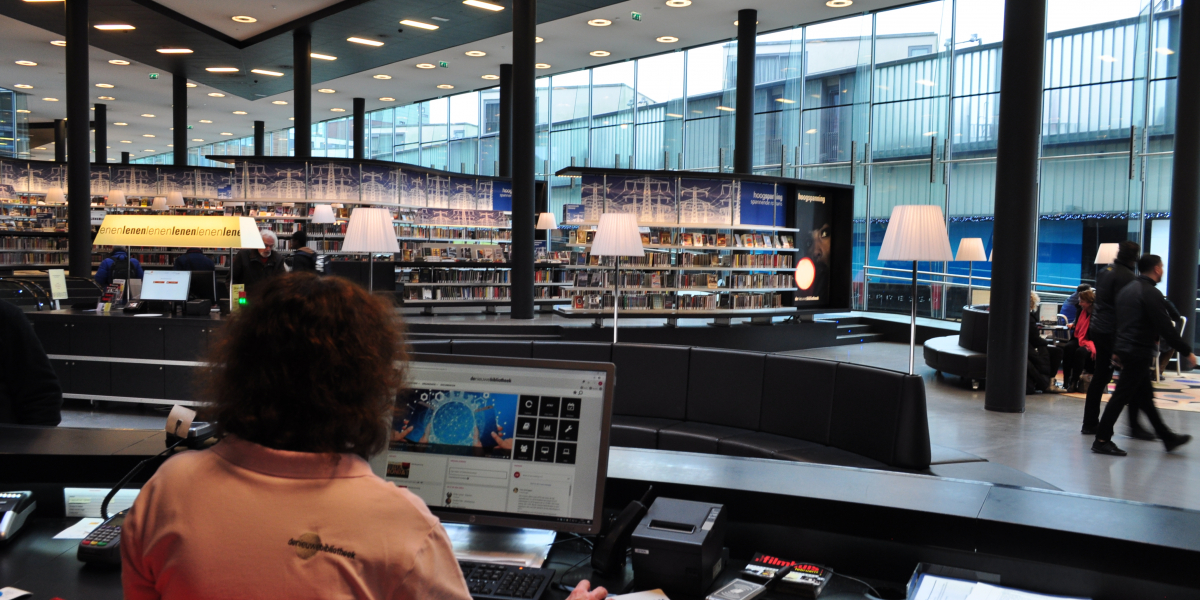 Goed verbonden door een moderne werkplek met Valo en SharePoint
De nieuwe bibliotheek in Almere is niet zomaar een bibliotheek. Met een nieuwscafé, zaalverhuur, bioscoopzalen, evenementen, ondersteuning voor laaggeletterden en een samenwerking met het onderwijs is ze veel meer dan alleen een plek voor boeken. Als je vragen hebt op gebied van IT is daar zelfs een digitaal spreekuur voor. De nieuwe bibliotheek is een plek om samen te komen, maar ook om samen tot oplossingen te komen: een perfecte match met c)solutions. De organisatie heeft 160 werknemers in dienst die nu allemaal gebruik maken van SharePoint en het nieuwe Valo intranet.
De ICT-afdeling van de organisatie is niet alleen verantwoordelijk voor de automatisering van de nieuwe bibliotheek, maar ook voor FlevoMeer Bibliotheek. FlevoMeer Bibliotheek maakt ook deels gebruik van het ICT-landschap van de nieuwe bibliotheek. Bij FlevoMeer Bibliotheek hebben ze ook ongeveer 150 medewerkers die actief zijn op hun eigen intranet: FLIP. De nieuwe bibliotheek noemt hun intranet Blink. Wij hebben zo voor beide bibliotheken een eigen Valo social intranet geïmplementeerd.
Oude situatie: een gedateerd intranet
De nieuwe bibliotheek werkte eerst al met een intranet, maar deze had meer weg van een simpele website. Voor dat moment was het goed, maar de organisatie wilde graag meer. Een belangrijk vraagstuk was de configuratie met Office 365. FlevoMeer Bibliotheek had nog helemaal geen intranet. De communicatie werd bij beide organisaties vooral via nieuwsbrieven gedaan. "Office 365 hadden we wel, dus we wilden vooral een nieuw intranet om daarmee een goede integratie te krijgen en modernere functionaliteiten en uitstraling te hebben."
"We hebben op het moment van de beslissing drie partijen gevraagd een demo voor ons te maken. We hebben toen verschillende intranet demo's bekeken en daar sprong c)solutions in combinatie met Valo bovenuit. Dit intranet was het meest toegankelijk en overzichtelijk, het complete plaatje voor wat wij bij de nieuwe bibliotheek nodig hadden."
Nieuwe situatie: een social intranet met Valo Lux
Het Valo intranet is snel geïmplementeerd en heeft alle functionaliteiten die beide bibliotheken nodig hebben. Het is voor de medewerkers ook overzichtelijk om zo sneller aan informatie te komen en samen te werken. De nieuwe bibliotheek heeft een aantal key users vanuit alle afdelingen. Zij hebben de rechten om pagina's op het intranet aan te passen. Het Valo intranet kenmerkt zich door 'what you see is what you get'; de adoptie van het nieuwe intranet is dan ook soepel verlopen. De medewerkers zijn tevreden en starten iedere dag met een frisse blik op het nieuwe medium.
Nieuwe situatie: SharePoint als Document Management Systeem
"Wij zijn als de nieuwe bibliotheek helemaal over naar werken in de cloud. Natuurlijk hebben we nog wel wat dingetjes via onze IT-leveranciers lopen, maar voor de rest werkt iedereen eigenlijk samen via SharePoint. SharePoint is anders dan het intranet – wat lastiger is voor onze eindgebruiker – omdat ze er niet altijd mee werken en niet altijd interesse hebben in de werking. Thuis heb je het niet, dus de adoptie gaat wat minder snel. Later dit jaar gaan we de medewerkers nogmaals samen trainen om ook het SharePoint-gebruik te verbeteren."
Het resultaat
De nieuwe bibliotheek heeft nu SharePoint als DMS en een sociaal intranet met Valo.
Socialer met Valo: Doordat Valo als een schil om SharePoint en Office 365 heen hangt, is het makkelijk om mee te werken. De Microsoft app Yammer is ook geïntegreerd in het systeem en de medewerkers kunnen via Valo Teamwork gemakkelijk in verschillende groepen of sites werken. Het intranet is overzichtelijk opgebouwd en ingesteld als startpagina. Zo zijn alle medewerkers altijd op de hoogte van het laatste en belangrijkste nieuws.
Een overzichtelijk Document Management Systeem: Door alle documenten in de cloud te beheren zijn de medewerkers van de nieuwe bibliotheek veel mobieler geworden. Met SharePoint kunnen de medewerkers op elk beschikbaar device bij hun benodigde documenten. De nieuwe bibliotheek is helemaal over op de cloud en Flevomeer Bibliotheek is bezig om ook over te gaan op SharePoint.
De klant aan het woord
Coördinator André Meijer over de samenwerking met c)solutions:
De implementatie van het intranet is makkelijk gegaan. Dat was ook voor onze medewerkers niet zo moeilijk; die overstap van het oude naar het nieuwe intranet. Voor het Document Management Systeem mistten we wel wat documentatie om de adoptie voor de medewerkers van de nieuwe bibliotheek makkelijker te maken. Uiteindelijk hebben we samen met c)solutions een aangepaste training gegeven, zodat het verhaal iets duidelijker werd voor onze medewerkers. Het eindresultaat is goed!"
Meer weten over Valo social intranet?
Nog niet helemaal zeker of Valo ook geschikt is voor jouw organisatie? Of wil je meer weten over een Document Management Systeem met SharePoint? Wij vertellen je graag meer. Neem contact op!