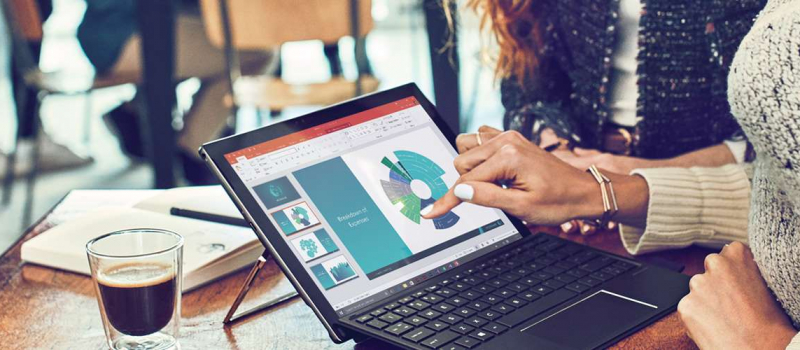 Steeds meer bedrijven werken in de cloud. Daarmee kunnen medewerkers overal op een veilige manier bij de juiste documenten. Een ander voordeel is dat je veel sneller kunt werken doordat niet alles op één netwerkschijf staat. Maar het belangrijkste is misschien wel de flexibiliteit die het je medewerkers biedt. 'Het Nieuwe Werken' is niet voor niets geïntroduceerd. Daarom bekijken we waarvoor grote bedrijven in Europa de cloud gebruiken. Is jouw bedrijf al om?
Hoe digitaal is jouw werkplek?
Bij Het Nieuwe Werken is het vooral belangrijk om te kunnen werken op een zelfgekozen tijd of plaats, daarbij zijn goede ICT-voorzieningen natuurlijk gewenst. Als je als bedrijf in de Cloud werkt, zorg je er gelijk voor dat je werknemers overal ter wereld kunnen werken. Het is voor je werknemers prettig als zij door omstandigheden een keer thuis kunnen werken of bijvoorbeeld files kunnen vermijden door het eerste uur thuis alvast te beginnen en daarna na kantoor te komen.
Er zijn meerdere technologieën die een moderne werkplek mogelijk maken. Door het integreren van cloud platformen zoals Office 365 en SharePoint creëer je een nieuwe digitale werkplek voor je werknemers. Wij kunnen je daarbij helpen.

Nederlandse bedrijven in kopgroep cloudgebruik
Het gebruik van cloud computing is erg verschillend in Europa. Hoewel in landen als Finland, Ierland en Nederland boven de 40% van de enterprises in de cloud werkt, is het in Bulgarije en Roemenië 10% of minder. De Nederlandse bedrijven horen bij de koplopers van het cloud gebruik. Bijna de helft van de Nederlandse bedrijven maakt gebruik van bijvoorbeeld cloud e-mail, opslag, software applicaties voor relatiebeheer of boekhouden. Ook zeker bij geavanceerde diensten zoals software applicaties zit Nederland (33%) in de hoogste regionen. Wat daar aan bijdraagt is de goede digitale infrastructuur die we in Nederland kennen. Denk hierbij aan de verbindingen, datacenters en cloud providers.
Doelen voor werken in de cloud
In de cloud werken heeft verschillende redenen. 69% van de bedrijven werkt ermee voor e-mail, waardoor geen aparte server meer nodig is. Maar het wordt voor veel meer doeleinden gebruikt. Bijna 68% van de enterprises past de cloud toe als opslag voor hun bestanden, 48% voor het hosten van hun database en 53% gebruikt het voor hun kantoorsoftware (zoals Office 365). Ook interessant is dat bedrijven via de cloud ook veel met applicaties voor financiën, accounting, customer relations en managing software werken. Ter vergelijking: 23% van de bedrijven werkt met cloud platforms (zoals SharePoint) om hun eigen business applicaties te gebruiken.
Een cloud platform kan de winst van een bedrijf goed doen. Er kunnen kosten worden bespaard doordat werknemers en klanten de services en bestanden online veel sneller kunnen vinden. Veel bedrijven hebben dus vertrouwen in de cloud services, hierbij zijn de volgende veranderingen zichtbaar:
Driekwart van de bedrijven (77%) heeft meerdere applicaties in de cloud.
26% van de EU enterprises maakt gebruik van de cloud in 2018, vooral voor het hosten van e-mail.
55% van deze bedrijven gebruiken geavanceerde cloud services, waarbij financiële, klantrelaties en het toepassen van bedrijfsapplicaties veel naar voren komen.
Veel bedrijven hebben verrassend genoeg in 2018 meer publieke cloud servers (18%) dan private servers (11%) gebruikt. Dit in verband met de infrastructuur voor exclusief gebruik.
Volgens Microsoft heeft 61% van de bedrijven die naar de cloud zijn verhuisd minder downtime (momenten waarop de website onbereikbaar is). Dit getal wordt elk jaar beter, waardoor websites en systemen beter blijven draaien. Het is dus stabieler voor je bedrijf om alles in de cloud te laten draaien.
Doordat steeds meer bedrijven (een stijging van 8% in het afgelopen jaar) de cloud gebruiken, stijgen de kosten hiervan. Daarom focust een deel van de bedrijven nu op het optimaliseren van hun cloud gebruik om toch geld te kunnen besparen. Als medewerkers op en snellere manier kunnen samenwerken scheelt dit weer in de personeelskosten. De tweede prioriteit is meer werkdruk naar de cloud verplaatsen.
Cloud oplossingen
Toch zijn er nog punten waarbij het misschien lastig is om over te stappen op de cloud. Bedrijven die gebruik maken van de cloud geven aan wat uitdagingen te zien in het dagelijks gebruiken van een cloud platform. De cijfers liggen allemaal niet heel ver van elkaar vandaan en zijn allemaal goed aan te pakken. Zo kun je bijvoorbeeld iemand van jouw ICT-afdeling de leiding laten nemen over het cloud-gebruik.
Bij c)solutions hebben wij alle kennis en expertise in huis om voor jouw cloud-vragen de oplossing te bedenken. Neem contact op met onze consultants, wij helpen u graag!
Referenties
Wil jij ook over op werken in de cloud? Neem contact op!