Onlangs zijn er door Microsoft veel updates en ontwikkelingen gepresenteerd tijdens Microsoft Ignite. Voor SharePoint, Office 365 en OneDrive nemen we je mee in de nieuwste updates die waardevol kunnen zijn voor jouw organisatie.
Binnen Office 365 gaat het delen van documenten nog sneller door de nog betere integratie van Teams, SharePoint en OneDrive. Ook is het voor Office 365-gebruikers nu ook makkelijker om informatie te importeren uit bijvoorbeeld Google Drive en Dropbox.
Teams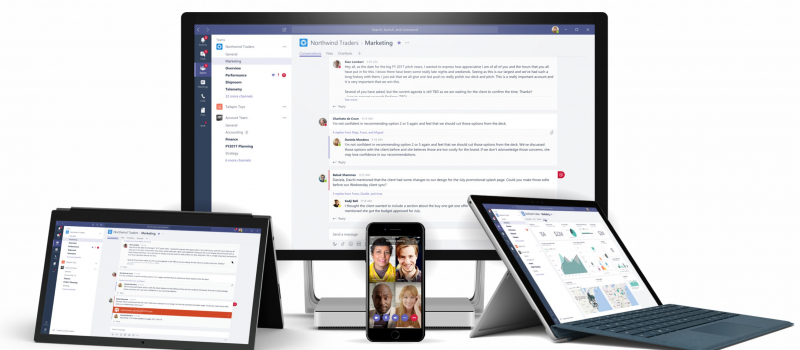 De document-weergave in Microsoft Teams wordt sterk verbeterd. Dezelfde functionaliteit die je al in SharePoint Online hebt, komt ook naar Teams. Denk aan een pre-view van bestanden en metadata waardoor samenwerken nog makkelijker wordt. Door middel van de synchronisatiebutton kun je ervoor kiezen documenten online en offline te zetten. Door de betere integratie van Teams met Office 365 kun je in Teams alle documenten openen en bewerken die je nodig hebt, zonder de app te verlaten.
Teams krijgt een Task App waarbij al je taken in Teams, Planner, Outlook en To Do in een overzicht bij elkaar staan. Je kunt ook, als je met notities binnen een document werkt, notities omzetten naar een taak. Deze "Tasks" voor Teams kan ook mobiel worden geopend en bijgewerkt.
Met het gebruik van Private Channels is het bovendien mogelijk om een kanaal binnen een Team te maken voor een selecte groep gebruikers. Denk bijvoorbeeld aan een Projectteam met zowel externen als collega's; niet alle informatie is wenselijk om te delen met externen. Door middel van een Private Channel kan dus voorkomen worden dat externen ook bijvoorbeeld de interne discussies te zien krijgen.
De chat kan met de nieuwste update in losse vensters geopend worden. Zo hoef je niet steeds te schakelen tussen gesprekken. Daarnaast is ook de integratie met Outlook verbeterd, waardoor het delen van e-mails en content naar beide platformen een stuk makkelijker wordt.
Office 365
In Office 365 wordt machine learning (ML) en kunstmatige Intelligentie (AI) gebruikt om de applicaties nog slimmer te maken in het gebruik ervan. Bijvoorbeeld door 'Ideas' toe te voegen aan Word wordt het mogelijk om teksten te verbeteren waardoor je een nog betere schrijver wordt. Zo worden suggesties gegeven voor bijvoorbeeld synoniemen of andere zinsopbouw.
De grootste verandering voor de mobiele gebruiker binnen Office 365 die is aangekondigd is de nieuwe Office 365 app voor IOS en Android.  Tot nu toe moest je voor ieder programma een eigen app downloaden, maar vanaf binnenkort kun je het hele Office 365 pakket vanuit één app gebruiken. Alle apps van Office 365 zijn geïntegreerd, waardoor je meteen aan de slag kunt. Microsoft heeft hier nog diverse functionaliteiten aan toegevoegd, waaronder het toevoegen van handtekeningen aan pdf-documenten. Het is ook mogelijk om een foto of afbeelding met tekst of tabel in te laden, waarbij deze automatisch in Word of Excel wordt omgezet. De app is nu nog in pre-view.
SharePoint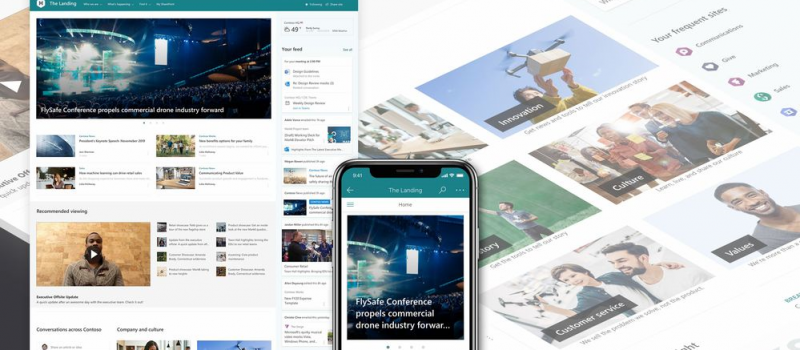 Via SharePoint is het nu mogelijk om de beschikbare content in jouw SharePoint sites (portalen) in meerdere talen aan te bieden. Daarnaast zijn er analytics ingebouwd, waarbij je kunt zien op welke momenten collega's het intranet het meest gebruiken en welke topics het populairst zijn.
Project Cortex

Na de lancering van Microsoft Teams is Project Cortex de volgende grote app. Het draait bij Project Cortex eigenlijk om het toegankelijk maken van de kennis die al beschikbaar is binnen de bestaande SharePoint omgeving. Door middel van deze applicatie wordt deze kennis binnen bestaande apps beschikbaar gesteld en wordt automatisch een 'kennis center' site gecreëerd waarop alle AI kennis wordt gewaarborgd.
Meer weten?
Heb je meer vragen over de laatste updates en wat dit voor jouw bedrijf kan betekenen? Of wil je meer weten over Microsoft Ignite? Neem dan contact op met onze consultants!