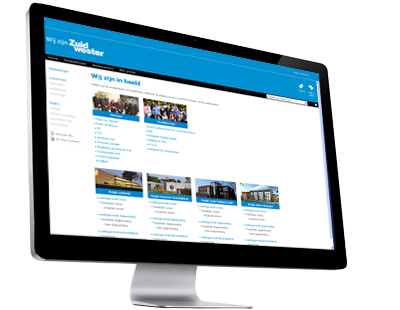 Een nieuw social intranet in SharePoint
Zuidwester is een organisatie die zorg en dienstverlening biedt aan mensen met een verstandelijke beperking. In totaal werken er zo'n 1800 mensen bij Zuidwester, veelal parttimers die werken in een wijd verspreid werkgebied. Zuidwester is te vinden op allerlei locaties in Zuid-Holland, Zeeland en West-Brabant. Ze zitten soms ver bij elkaar vandaan, en op een goede manier informatie kunnen vinden. En daar hebben wij bijvoorbeeld een goed smoelenboek voor nodig. Zodat je makkelijk en snel informatie kunt vinden over een collega op een andere werkplek of een concernafdeling. Dus dat is vanuit communicatie oogpunt de reden geweest om daarin te investeren en met c)solutions in zee te gaan.
Oude situatie: Veel verschillende eilandjes
André Hagoort, hoofd automatisering en informatisering vertelde over het probleem. "We hebben gekozen voor SharePoint als platform omdat dit breed wordt ondersteund door marktpartijen. Waar we eigenlijk tegenaan lopen is dat we heel veel automatiseringseilandjes hebben. Dus mensen moeten uren invoeren, dat doen ze in een roosterpakket. Mensen moeten productie verantwoorden in Unicura. Mensen zijn niets anders aan het doen dan switchen tussen de applicaties, dus daarom SharePoint."
De wens van Zuidwester was een verbindend platform:
Medewerkers moeten zich goed kunnen informeren.
Het intranet moet het werk van de medewerkers vereenvoudigen.
Het intranet moet het delen, benutten en vermeerderen van kennis bevorderen.
Het sneller vinden van collega's door middel van een goed smoelenboek met zoekfunctie.
Het beter mogelijk maken van delen van informatie met interne en externe medewerkers.
Het centraal faciliteren van tijd- en plaats-onafhankelijk samenwerken.
Het centraal beheren van data en opslag op één locatie van documenten.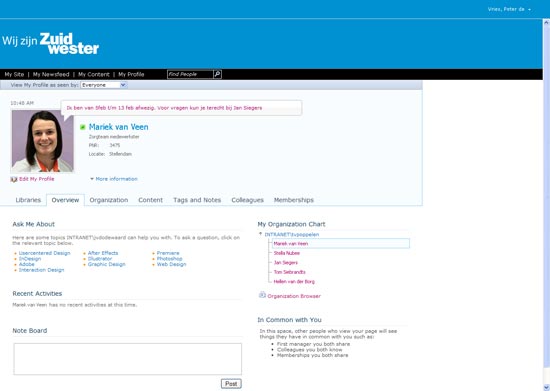 Nieuwe situatie: Een social intranet op basis van SharePoint
c)solutions realiseerde een intranet op basis van SharePoint 2010 met een Lync implementatie. De systemen werken op deze manier veel beter samen. Collega's kunnen elkaar makkelijker contacten door de diverse opties in SharePoint.
De klant aan het woord
Senior communicatieadviseur Anette van der Wulp over c)solutions:
"Wat ik vooral pretting vond bij de samenwerking met c)solutions is het aanbod dat zij deden om intern in onze eigen organisatie iemand op te leiden die ook met SharePoint en die omgeving aan de slag zou kunnen. Dat hebben we ook uitgevoerd, één van mijn medewerkers is inderdaad ook zo'n cursus gaan doen. En kan nu bepaalde SharePoint handelingen ook zelf oplossen en daar een bijdrage aan leveren."
Hoofd informatisering & automatisering André Hagoort over c)solutions:
"Op het moment dat wij c)solutions nodig hebben, dat is zowel in de ontwerpfase zeer prettig verlopen. Minstens zo belangrijk vind ik dat we nu live zijn – ik heb al een paar keer gehad dat er iets niet werkte via SharePoint – dan is het eigenlijk in alle gevallen heel snel opgelost."
Meer weten over SharePoint?
Meer weten over onze SharePoint oplossingen? Of nog niet helemaal zeker of SharePoint geschikt is voor jouw organisatie? Wij vertellen je graag meer. Neem contact op!