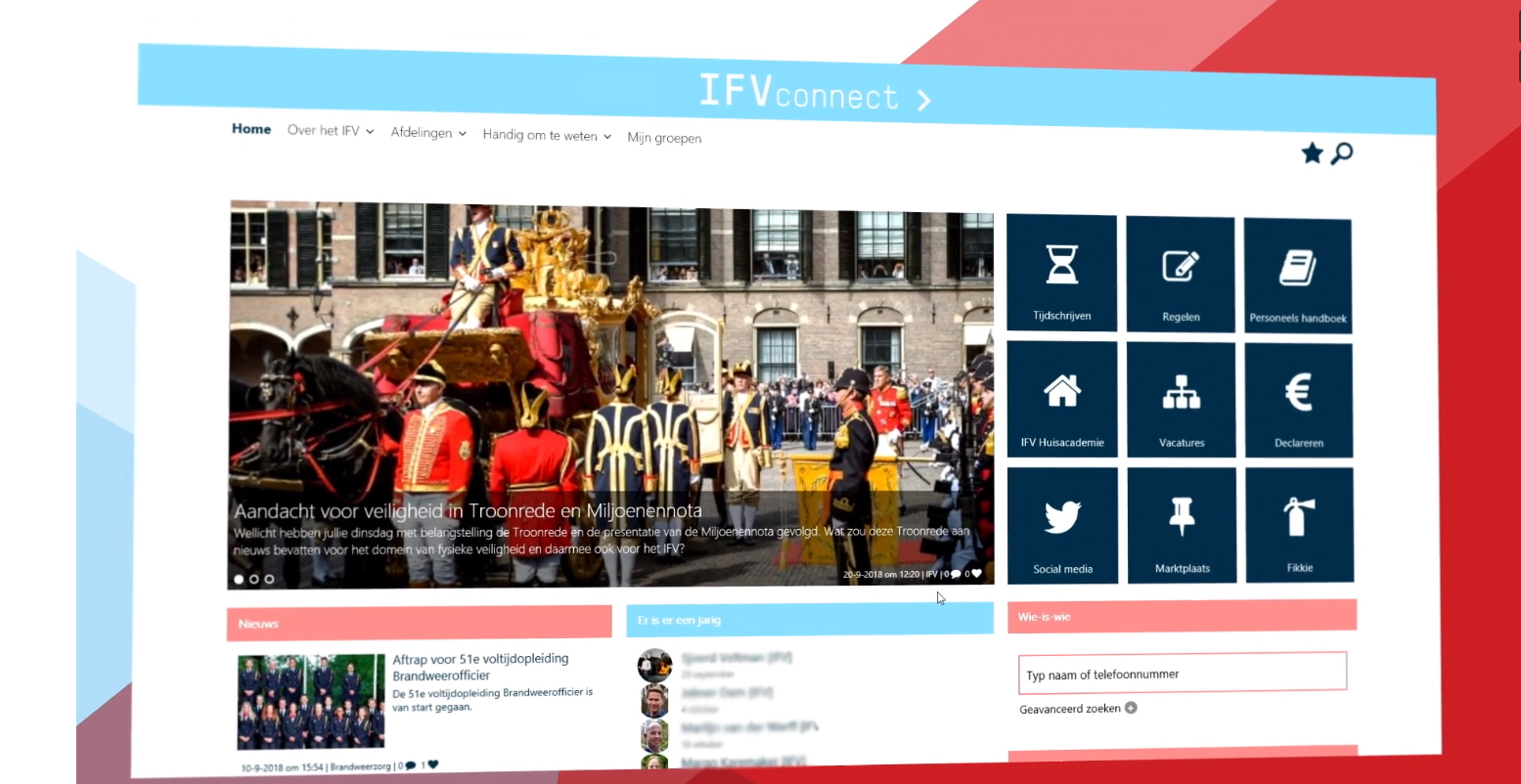 Een nieuw social intranet met Office 365
"Het Instituut Fysieke Veiligheid (sinds maart 2022 verder als NIPV) is een objectief en betrouwbaar landelijk instituut op het gebied van crisisbeheersing, brandweerzorg en rampenbestrijding. Zij leveren de kennis en kunde die professionals en bestuurders nodig hebben bij het veilig maken en houden van ons land. Het IFV ontwikkelt en deelt relevante kennis via zijn lectoraten en academies, adviseert en ondersteunt bestuurders, verzorgt de landelijke informatievoorziening en kennisinfrastructuur voor de veiligheidsregio's en heeft expertise voor het verwerven en beheren van gemeenschappelijk materieel. Op de locaties van het IFV in Arnhem en Zoetermeer werken ongeveer 300 mensen."
Oude situatie: Een statisch, gedateerd intranet
Het IFV-personeel werkt in meerdere vestigingen en door het hele land verspreid. Het intranet vervult een spilfunctie bij de interne communicatie, het uitwisselen van kennis en het weghalen van geografische barrières. Het statische intranet dat men voorheen gebruikte was gedateerd, had beperkte mogelijkheden en was visueel niet aantrekkelijk. Dit was vooral een informatiedrager, geen verbindend medium. Het systeem kon technisch niet langer ondersteund worden. Daarnaast was het digitaal samenwerken aan een update toe en niet centraal georganiseerd. De wens van IFV was om een sociaal intranet te hebben dat "leeft":
De wens van IFV was een sociaal intranet dat "leeft":
Medewerkers voelen zich goed geïnformeerd.
Het intranet vereenvoudigt het werk van de medewerkers.
Het intranet motiveert en bindt medewerkers.
Het intranet bevordert het delen, benutten en vermeerderen van kennis.
En voor het digitaal samenwerken:
Het beter mogelijk maken van delen van informatie met interne en externe (project)medewerkers.
Het centraal faciliteren van tijd-en plaats-onafhankelijk samenwerken (projectmatig werken).
Het centraal beheren van data en opslag op één locatie van (project-)documenten.
Nieuwe situatie: Een social intranet op basis van Valo en Office 365
Het IFV heeft gekozen om volledig in de cloud te gaan werken met Office 365 in combinatie met Valo Intranet; kant-en-klaar en gebaseerd op Office 365 en SharePoint. Digitaal samenwerken wordt hierbij ondersteund met Teamwork. Naast het delen van informatie is het nieuwe intranet een platform waar collega's zich kunnen presenteren en de doelstellingen van het IFV visueel aantrekkelijk worden neergezet. Het intranet is overzichtelijk en goed toepasbaar op de IFV-huisstijl en ook het bieden van dialoog en interactie is mogelijk via het nieuwe social intranet.
Het resultaat
Een nieuwe sociaal Intranet dat vanuit elke locatie en met elk apparaat te benaderen is IFV medewerkers kunnen niet alleen met hun PC maar ook met hun smartphone het nieuwe intranet benaderen. Buiten reacties op nieuwsberichten hebben IFV medewerkers ook een platform waar ze direct met elkaar in gesprek kunnen gaan. (Yammer). Het nieuwe intranet  IFVConnect heeft een eigen App voor Android en IOS smartphones. Hiermee kunnen ook push berichten verstuurd worden.
Samenwerken in teams en Projecten – documenten zijn overal toegankelijkDe Digitale Samenwerkingsruimten worden uitgerold volgens vaste templates waarmee team- projectomgeving snel en geautoriseerd (met de juiste rechten en rollen) gemaakt kunnen worden. Doordat samenwerken nu goed ondersteund wordt ook met externe partijen kunnen projectleden overal aan documenten werken of ze opvragen zelfs als ze onderweg zijn. Toegangs- en gegevensbeveiliging is standaard aanwezig met Office 365.
Geen beperkingen meer in opslag of mailbox capaciteitOok de mail is naar de Office 365 verhuisd. Met OneDrive voor Bedrijven krijgt elke gebruiker 1 TB aan opslagcapaciteit in de cloud. De gegevens zijn vanaf elke locatie toegankelijk en worden met de pc of Mac van de gebruiker gesynchroniseerd, zodat ze ook offline beschikbaar zijn.
De klant aan het woord
Projectleider Leon Visser van het IFV aan het woord:
"De samenwerking met c)solutions is zeer goed bevallen. Buiten de rol van Valo- en Office 365 implementatiepartner heeft c)solutions ons ook geholpen met de training van eindgebruikers. En dat is voor gebruikersadoptie erg belangrijk. De mogelijkheden Office 365 in combinatie met Valo biedt voor het IFV een mooie springplank om de komende jaren de digitale transformatie verder vorm te geven".
Meer weten over Office 365?
Meer weten over onze Office 365 oplossingen? Of nog niet helemaal zeker of Office 365 geschikt is voor jouw organisatie? Wij vertellen je graag meer. Neem contact op!