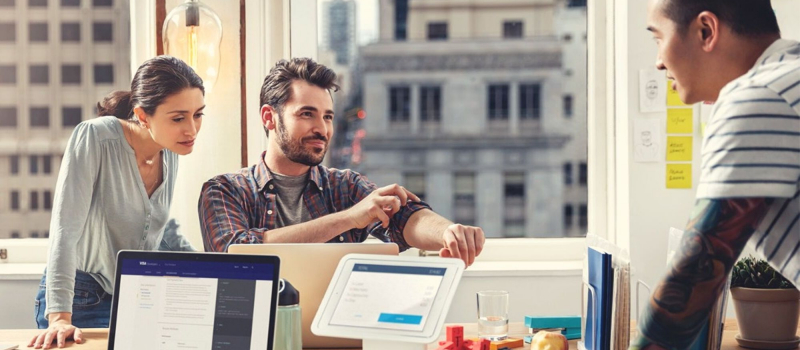 Een moderne werkomgeving past helemaal bij Het Nieuwe Werken en de behoeften van moderne medewerkers. Dit betekent dat medewerkers op ieder gewenst moment samen moeten kunnen werken met collega's, klanten en partners. Hierbij is de locatie, het tijdstip of het soort device niet meer bepalend. Daarom is het tijd voor de moderne werkplek! Digitalisering van de werkomgeving is de oplossing voor veel bedrijven. Wij maken, met de technologie van Microsoft, het creëren van deze moderne werkplek een stuk eenvoudiger.
Een moderne werkomgeving biedt de samenwerkende, slimme en veilige oplossingen die vandaag de dag nodig zijn in het snel veranderende digitale tijdperk. Voor organisaties betekent een moderne werkomgeving hopelijk ook meer tevreden medewerkers, dat mede daardoor weer nieuwe talenten kan aantrekken. Het promoot ook de productiviteit en beter samenwerken. Aan de andere kant werkt een modern workplace in het voordeel van de IT-afdeling doordat zij minder werkdruk hebben.
Het Nieuwe Werken draagt zo bij aan bedrijfsprioriteiten zoals innovatie, het aantrekken van talent en het maken van beslissingen gebaseerd op data. Veel bedrijfseigenaren willen daarom toe naar deze mindset en vorm van moderne werkomgeving.
De mogelijkheden van Microsoft 365
Om die moderne werkomgeving vorm te geven, hebben medewerkers tools nodig die hun productiviteit en creativiteit kunnen verbeteren. Gelukkig heeft c)solutions deze allemaal bij de hand. Met de juiste tools maken we het voor jou makkelijk om de transformatie naar een moderne, digitale werkomgeving te maken. Door alle apps en mogelijkheden van Microsoft 365 is het mogelijk om overal te werken, waar en wanneer je maar wilt. Dit stimuleert samenwerken, maar ook betrokkenheid, innovatie en transparantie binnen jouw organisatie.
Microsoft 365 is het alles-in-één-pakket waarbij je niet alleen over Office 365 beschikt, maar ook over het Windows 10-pakket en Enterprise als beveilingsbundel waardoor je op een veilige manier met je collega's in de cloud kunt werken. Lees hier meer over de verschillen tussen Microsoft 365 en Office 365. Hierboven zie je de belangrijkste voordelen en mogelijkheden die Microsoft 365 biedt. Ook informatie en communicatie, single sign-on, remote desktop applicaties, app management en business apps horen tot de Microsoft 365 omgeving.
Office 365 of Microsoft 365, wat past bij jouw organisatie?
Of je nu kiest voor Office 365 of voor de uitgebreidere variant van Microsoft 365; c)solutions helpt je graag verder. Onze consultants geven je deskundig advies over de overstap naar Office 365 of Microsoft 365. We laten zien wat de functionele en technische mogelijkheden zijn en geven helder inzicht in de kosten en de besparingen die de pakketten met zich meebrengen.