Met Microsoft Shifts is het makkelijk om planningen te maken waarbij je medewerkers in dagdelen indeelt. Het makkelijkste is om de Shifts app meteen aan jouw Teams toe te voegen, maar je kunt deze natuurlijk ook los gebruiken. Shifts is een hulpprogramma van Microsoft voor planningsbeheer waarmee je planningen voor je team kunt maken, bijwerken en beheren.
Starten met Microsoft Shifts
Vooral voor industriële bedrijven is Microsoft Shifts een handige oplossing. Degene die verantwoordelijk is voor planning deelt zo makkelijk het personeel in en laat hen weten wanneer ze staan ingeroosterd. Zo kunnen firstline medewerkers precies bijhouden wanneer zij verwacht worden.
Shifts is voor allerlei soort bedrijfstakken een handige planningstool. Denk ook aan kleinere bedrijven zoals kappers en restaurants. Door de huidige pandemie proberen bedrijven allerlei stappen te nemen om hun medewerkers op een veilige afstand terug te laten keren naar hun werkplek. Bedrijven proberen de sociale afstand te houden door het aantal mensen op de werkvloer te beperken zodat het een veilige werkomgeving blijft. Dit vergt veel creativiteit en denkvermogen om aanpassingen te doen in de werkruimtes. Veel werknemers passen zich al aan door (indien mogelijk) thuis te werken door met digitale werkplaatsen te werken zoals Teams en Valo. Maar doordat het nog wel een tijdje kan gaan duren is Microsoft Shifts dé oplossing om werknemers in verschillende diensten op hun werkplek in te plannen.
De oplossing hiervoor is dus Shifts binnen Microsoft Teams: een hulpmiddel voor planningsbeheer waarmee je planningen voor je team kunt maken, bijwerken en beheren. Hetzelfde platform zou faciliteiten en kantoormanagers kunnen helpen bij het beheren en beperken van werknemers om op locatie te werken.
Meer weten over een moderne werkomgeving binnen de industriële sector?
Mogelijkheden binnen Shifts
Planningen – Maak een nieuwe planning of importeer een bestaande planning uit Excel. In een shiftplanning worden de dagen bovenaan weergegeven en teamleden worden aan de linkerkant weergegeven. En als je verantwoordelijk bent voor meerdere teams, kun je schakelen tussen de verschillende shifts om ze te beheren.
Dagnotities – Voeg notities toe om belangrijke nieuwtjes en herinneringen voor een bepaalde dag te delen.
Groepen– Geef je groep een naam die verwijst naar een taak of locatie, zodat je je groepen georganiseerd kunt houden. Voeg vervolgens personen toe aan een groep.
Shifts -Kies een tijdvak om een shift toe te wijzen. Je kunt een nieuwe maken of een kopie van een bestaande maken. Vergeet niet om activiteiten zoals trainingen een specifieke taak toe te voegen. Voeg open shifts aan uw planning toe die iedereen kan aanvragen. Als je de dekking voor de shift wil controleren, kun je jouw planning bekijken op personen of type shift.
Aanvragen – Controleer aanvragen voor vrije tijd, het wisselen van shifts of aanbiedingen.
Tijdklok – Schakel een tijdklok in als je wil dat jouw team in- en uitklokt voor de shifts via een mobiel apparaat. Schakel locatie detectie in om te waarborgen dat teamleden inklokken vanaf een aangewezen werklocatie.
Delen – Als je een planning bewerkt, wordt deze automatisch opgeslagen, maar de updates zijn pas zichtbaar voor het team wanneer je deze deelt.
Exporteren of kopiëren – Bekijk je planning in een spreadsheet door deze te exporteren naar Excel. Als je een shiftplanning opnieuw wil gebruiken, kopieert je deze naar het gewenste datumbereik.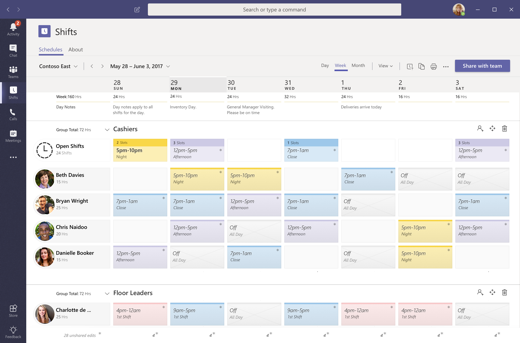 Wil jij aan de slag met Microsoft Shifts maar heb je nog vragen?
We helpen je graag. Neem nu contact op!