Na veel inspanning van jou en je team heb je een intranet gerealiseerd! Nu is de grote vraag: behaal je de doelen die je vooraf had gesteld? Wat is het succes van jouw intranet en hoe meet je dat? Daar gaan we in deze blog op in.
Starten bij de basis
Het is belangrijk om van tevoren duidelijke doelstellingen te bepalen en meetbare indicatoren te definiëren om het succes van het intranet te kunnen evalueren. Door regelmatig te meten en de resultaten te analyseren, krijg je inzichten en kunt waar nodig verbeteringen aanbrengen om het intranet effectiever te maken. Het meten van het succes van een intranet kan op verschillende manieren. We delen nu een aantal belangrijke aspecten om het succes van je intranet te meten.
Gebruikersbetrokkenheid
Het meten van de betrokkenheid van gebruikers is een goede indicator voor het succes van een intranet. Dit kan worden gedaan door het analyseren van statistieken zoals:
het aantal unieke bezoekers;
de frequentie van bezoeken;
de tijd besteed op het intranet;
het aantal bijdragen aan discussies of samenwerking.
Benieuwd hoe je deze informatie terugvindt binnen een op SharePoint gebaseerd intranet? Dat staat hier beschreven.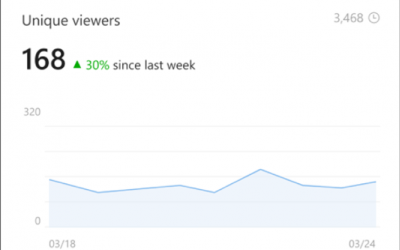 Gebruikerstevredenheid
Net zoals onderzoeken naar klant- of medewerkerstevredenheid kunnen enquêtes of feedbackverzameling bij gebruikers je helpen om de tevredenheid over het intranet te meten. Vraag naar hun mening over de gebruiksvriendelijkheid, de relevantie van de inhoud, de functionaliteiten en de algehele ervaring. Deze enquête-functie zit al standaard in Microsoft 365 binnen Forms.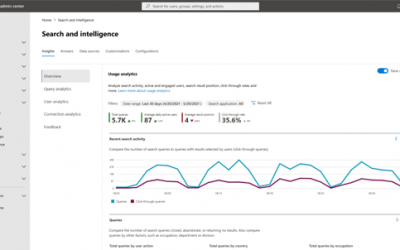 Toegang tot informatie
Een belangrijke doelstelling van een intranet is het verstrekken van informatie voor je medewerkers. Met het oog op dit doel kun je het succes meten door te kijken naar:
De zoekpatronen en het zoekgedrag;
De frequentie van het openen van belangrijke documenten;
Het gebruik van de kennisbank of interne bronnen.
Samenwerking & communicatie
Het intranet kan de samenwerking en communicatie binnen het team verbeteren. Met die informatie in het achterhoofd kun je het succes meten door te kijken naar het aantal aangemaakte teamsites, het gebruik van samenwerkingshulpmiddelen zoals chat, forums of documentuitwisseling en de feedback van medewerkers over de verbetering van de communicatie.
Bedrijfsdoelstellingen
Jouw intranet moet bijdragen aan het bereiken van de bredere bedrijfsdoelstellingen. Denk bijvoorbeeld aan het verminderen van e-mailverkeer, het stroomlijnen van bedrijfsprocessen, versnellen van de besluitvorming of het vergroten van de kennisdeling. Het meten van de impact op deze gebieden kan ook een goede indicatie zijn van het succes van het intranet.
Tip: kijk eens naar Microsoft Clarity om meer inzicht te verkrijgen in je intranet. Deze tool geeft je inzicht in een veel van de bovengenoemde KPI's.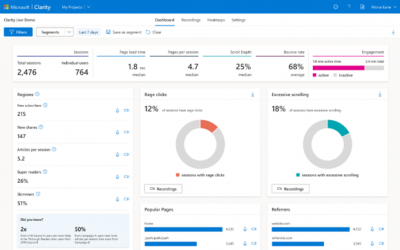 Als het succes tegen blijkt te vallen…
Een goed intranet realiseren dat ook daadwerkelijk impact maakt binnen je organisatie is niet gemakkelijk. Mocht het tegenvallen, dan kan dat allerlei oorzaken hebben. Om je hierin te ondersteunen geven wij je vijf waardevolle tips in onze blog. Lees de vijf tips…
Een intranet voor jouw organisatie?
Wil jij weten hoe je jouw intranet kunt verbeteren? Of zoek je een partij die je ondersteunt bij de implementatie van een (nieuw) digitaal platform? Neem gerust contact met ons op; we kijken samen naar de mogelijkheden en adviseren je graag.
Wil je je eerst inlezen in de mogelijkheden die wij aanbieden? Download dan hiernaast onze intranet whitepaper.
Vraag de intranet whitepaper aan