Als jouw organisatie al een tijdje met Microsoft 365 werkt, vraag je je vast weleens af hoe je de inrichting kunt verbeteren. Misschien heb je vragen over het overzichtelijk houden van je Teams-omgeving of ben je op zoek naar meer inzicht in de beveiligingsmogelijkheden. Aan de ene kant wil je het goed werkbaar houden, maar je moet ook voldoen aan wet- en regelgeving. Daarom kijken we in deze blog naar de mogelijkheden op dit gebied. Lees gauw verder.
Governance + databeveiliging
Data groeit enorm snel en de voorspelling is dan ook dat we in 2025 175 zètabyte aan data hebben. Dat laat zien hoe belangrijk het is om goed na te denken over je data. Als we praten over Governance, dan hebben we het over: het beleid dat je binnen de organisatie hebt en de afspraken die je hierover maakt. Dit gaat natuurlijk hand in hand met de informatiebeveiliging.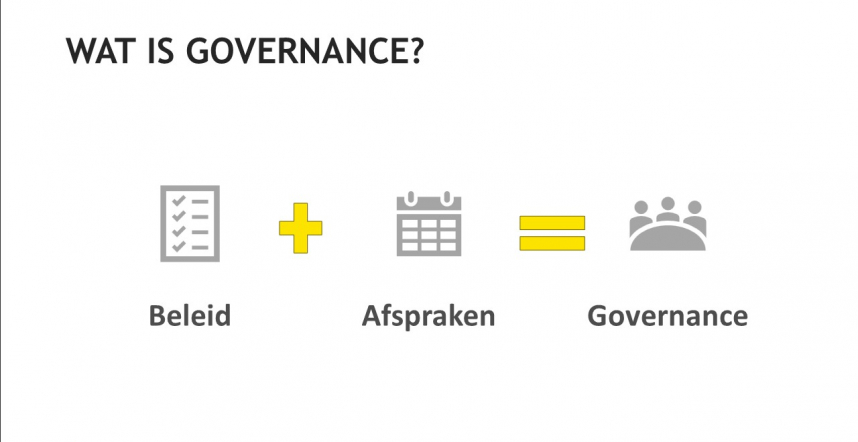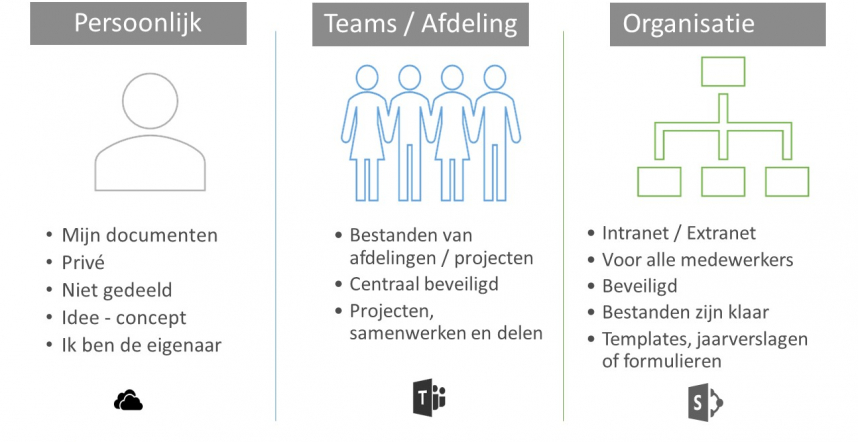 Drie pijlers voor dataopslag
Microsoft heeft drie pijlers als het gaat om opslag van data.
Te beginnen met je OneDrive. Het is de bedoeling dat je dit privé gebruikt, voor jouw persoonlijke (maar zakelijke) documenten. In principe deel je deze niet, maar gaat het om een conceptbasis, die je vervolgens verder uitwerkt.
Dan kijken we naar Microsoft Teams, bedoeld voor samenwerking. Hier staan je gedeelde documenten; de files van jouw afdeling en projecten. Alles waar je samen aan werkt.
Als laatste is er SharePoint als portaal. Daar staat het eindproduct. Denk aan het personeelshandboek voor alle medewerkers. Het is de bedoeling dat je niet zomaar aanpassingen doet in deze 'eindproducten'.
Goed om te weten: natuurlijk worden al je bestanden onder water opgeslagen in SharePoint, maar aan de voorkant is het de bedoeling om te werken volgens deze drie pijlers.
AAD en Microsoft 365 groepen
Een vraag die wij vaak krijgen is: hoe regel je wie wat kan zien in Microsoft 365? Dat gebeurt met groepen, ook wel de Azure Active Directory (AAD). In Microsoft 365 kun je vastleggen wie toegang heeft tot het systeem en welke licenties of rechten en rollen diegene heeft. Zowel op groeps- als persoonsniveau. Dit zorgt uiteindelijk voor de toegang tot Microsoft 365 en het lidmaatschap voor diverse services. Belangrijk is om deze basis op orde te hebben. Zorg dat je de juiste gebruikersgroepen geïdentificeerd hebt en dat ze gekoppeld zijn aan de juiste beveiligingsgroepen.
Afspraken maken in Teams
Zodra je Teams gaat gebruiken wil je specifieke afspraken maken, zodat het werkbaar blijft. Denk aan vragen als: kan iedereen teams aanmaken? Maken we daar beleid op? En wat zijn de templates die we gaan gebruiken? Je kunt je namelijk voorstellen dat zodra er teams voor een afdeling gemaakt worden (zeker als er externen bij betrokken zijn) dat hier regels voor moeten komen. Zo kan een naamgeving conventie voor een team handig zijn. Hierdoor kun je in één opslag kan zien dat dit een projectomgeving voor een afdeling is en of er externen op actief zijn. Benieuwd welke afspraken wij aanraden te maken binnen Teams? Volg dan ons webinar op 10 augustus!
Beveiliging van je data met geautomatiseerde regels
Om je data veilig te houden is het slim om te kijken geautomatiseerde regels. Je komt dan uit bij Microsoft Purview. Ook hier gelden weer drie 3 pijlers. Namelijk:
Vertrouwelijke data: met deze functionaliteit zorg je ervoor dat data niet lekt buiten je organisatie. Je kunt zo automatisch labels meegeven aan  documenten. Denk aan een HRM file met NAW-gegevens of e mailadressen. Het systeem herkent dat een gebruiker binnen bepaalde groepen bezig is. Alles wat in die groep valt krijgt automatisch de juiste classificatie. Mocht een gebruiker een andere autorisatie toekennen, dan kun je instellen dat er een workflow geactiveerd moet worden. Vervolgens moet een leidinggevende toestemming geven voor de classificatie.
Data loss prevention: dit wil je meegeven aan data die nooit buiten je organisatie mag komen. Denk aan creditcardgegevens.
Data lifecycle management: dit gebruik je voor dossiers die een levenscyclus hebben, welke na 10 jaar vernietigd moeten worden. Met name binnen overheidsinstanties is dit belangrijk (vanwege de archiefwet). Je gebruikt hier retentielabels voor. Let wel op: hier moet je Microsoft E5 voor hebben.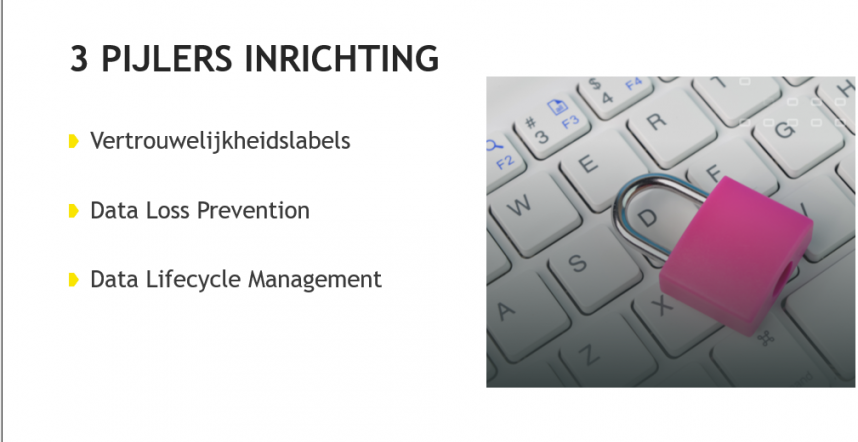 Volg ons Governance webinar
Op donderdag 10 augustus geven we een webinar over dit onderwerp en laten we je een demo zien hoe je deze zaken inregelt. We kijken naar de rollen en rechten, het compliancy center en besteden tijd aan Microsoft Purview. Schrijf je hiernaast in voor het webinar en je ontvangt een e-mail zodra het webinar start. Mocht de tijd je niet uitkomen, schrijf je dan alsof nog in. We sturen je achteraf de terugkijklink.
Wanneer: donderdag 10 augustus 2023
Hoe laat: van 9:00 tot 9:45 uur
Doelgroep: het webinar is bedoeld voor IT-managers die zich bezighouden met Microsoft 365 en de inrichting hiervan.
Meer weten >