Power Platform: een case bij onboarding
Zodra er nieuwe medewerkers binnen jouw bedrijf komen, wil je ze natuurlijk een soepel inwerktraject geven. Daarvoor is het Microsoft Power Platform bij uitstek geschikt. Door een paar simpele stappen te automatiseren en vergemakkelijken zorg je voor een vloeiend proces waarin zeker alles en iedereen op tijd is voorbereid. 
Wat er allemaal gebeurt voordat een nieuwe collega start, is je wellicht niet onbekend. We schetsen een situatie:
✔ Kandidaat selecteren
Om te beginnen met het selecteren van een kandidaat. Dit wordt gedaan door de HR-/manager.
✔ Selectie
Vervolgens vinden er gesprekken plaats. Het begint hierbij met een  kennismakingsgesprek wat volgt met één of twee vervolg gesprekken.
✔ HR
Als de kandidaat door de selectie heen is kunnen er bij verschillende afdelingen services worden aangevraagd zoals het personeelsnummer.
✔ Onboarding
Tijdens deze stap kan dan ook het daadwerkelijke onboarden (voorbereiden) beginnen.
✔ IT/ Services
Je gaat je focussen op het aanmaken van een accounts en er wordt er toegang gegeven tot bepaalde applicaties.
✔ Facilitair/ Finance
Je begint met het aanschaffen of reserveren van hardware zoals: laptop, pc, telefoon, auto, kleding, beveiliging.
✔ Marketing/ communicatie
In sommige gevallen wordt de nieuwe kandidaat welkom geheten in het bedrijf.
Power App als voorbeeld
Voor dit onboardingsproces zou je een Power App kunnen ontwikkelen. De app zorgt ervoor om het voor jouw bedrijf en nieuwe werknemers makkelijk te houden.  
Collega Ramon heeft een voorbeeld uitgewerkt om te illustreren wat de mogelijkheden zijn. Je begint in dit voorbeeld bij een 'check-in' voor de nieuwe collega, waarin je alle nodige informatie over de nieuwe medewerker opslaat. Alle informatie die hier wordt ingevoerd wordt in de achterkant verzonden naar SharePoint. Waarbij je in een duidelijk overzicht ziet, dat er een nieuwe medewerker is toegevoegd.   
Meer Power platform?
Blijf op de hoogte van het laatste nieuws
HR
Vervolgens krijg je als afdeling of als HR Manager een melding van Microsoft Approvals dat er een nieuwe medewerker is toegevoegd in de module 'Onboarding nieuwe medewerker'. Hierbij is het belangrijk dat er een personeelsnummer wordt aangemaakt en dit gebeurt weer in Microsoft Teams – wel zo makkelijk als de HR-medewerkers vooral in Teams werken.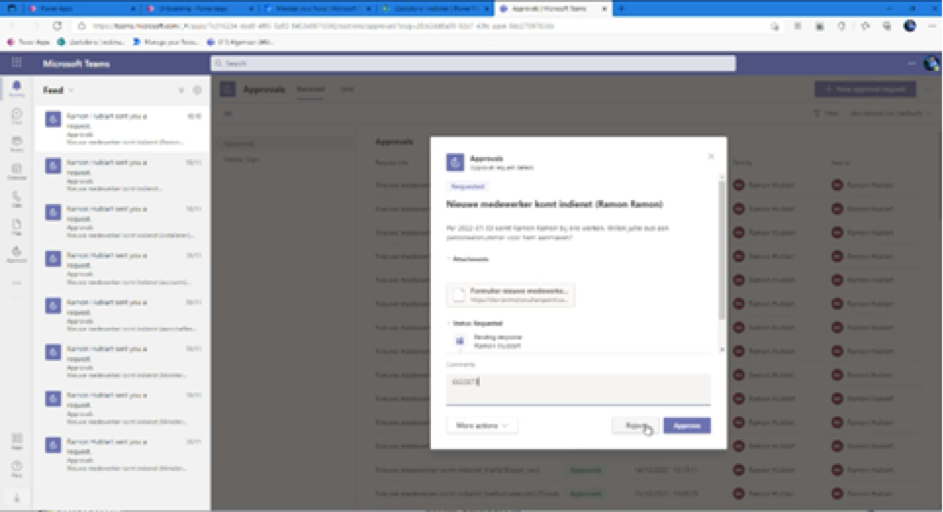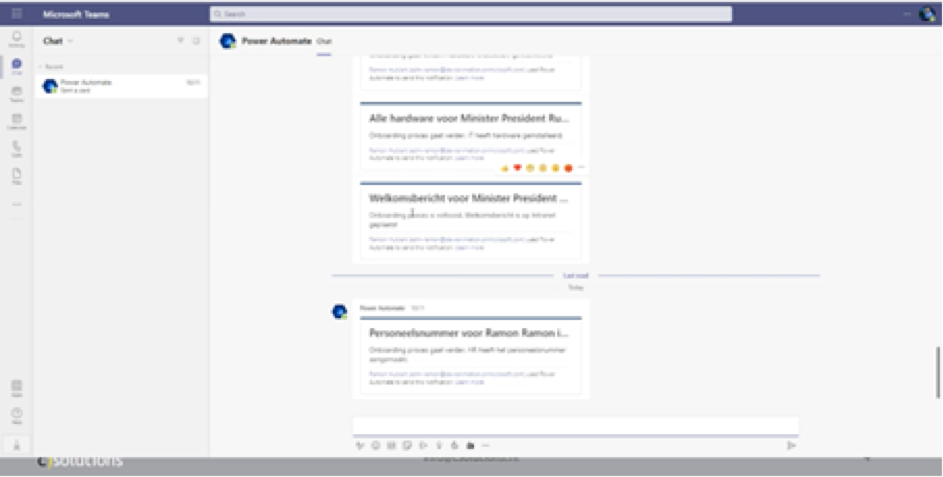 Vanuit Microsoft Approvals kan je een comment plaatsen wat verstuurd moet worden naar de desbetreffende afdeling en dat krijg je vervolgens binnen in Power Automate.
Vanuit de Power Automate krijg je een melding binnen dat het proces verder gaat en jouw personeelsnummer is aangemaakt. Er is dus een schakel tussen verschillende modules van Microsoft 
IT / Services
Het volgende deel van het proces voor het onboarden van jouw nieuwe werknemer is het aanmaken van account en het toegang verlenen tot Apps en Services. Alle taken die je wilt aanmaken wat er gedaan moet worden voor jouw nieuwe collega kun je in een lijst van Approvals zetten. Deze taken kun je splitsen en verdelen om vervolgens te kunnen verzenden naar de desbetreffende afdeling. Uiteindelijk krijgt de manager opnieuw een bericht dat de onboarding verder gaat.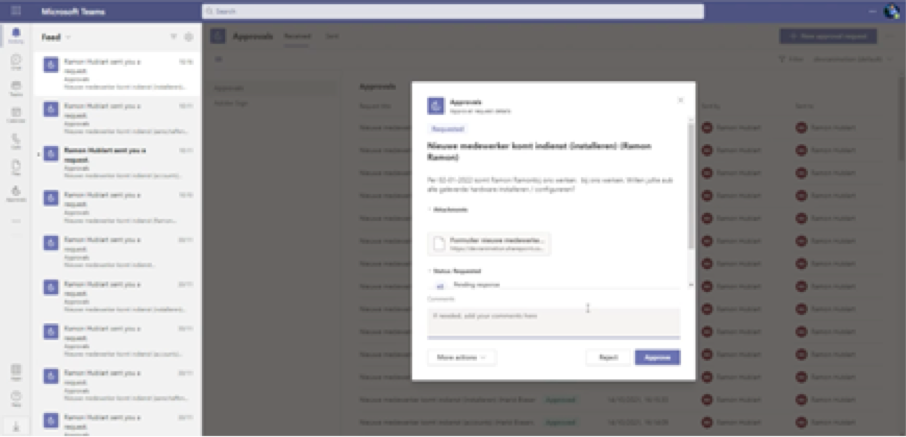 Facilitair
Zodra de accounts zijn aangemaakt, begin je met de hardware. De hardware reserveren en vervolgens installeren. Zodra de accounts zijn aangemaakt krijgt de manager een chat in Power Automate dat de hardware is gereserveerd en dat de onboarding verder gaat. Uiteindelijk wordt er gewacht op de approvals zodat de installatie van de hardware ook verder kan. En dat gaat over deze omgeving in Microsoft Teams.  
Zo krijgt de manager van deze afdeling een bericht in Power Automate met een goedkeuring en kan het onboarding proces verder gaan.  
Zoals je ziet is de onboarding gestart, het personeelsnummer is toegevoegd, de accounts zijn aangemaakt en er is toegang tot verleend en de hardware is gereserveerd. Deze taken zijn allemaal voltooid.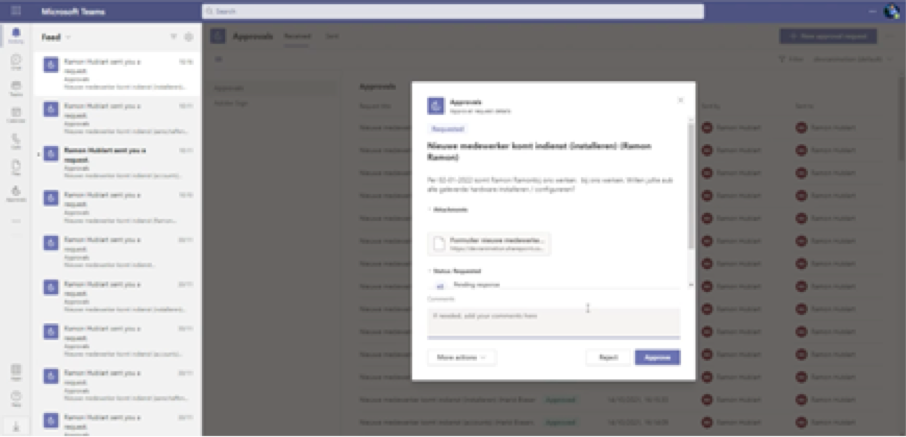 Marketing/ Communicatie
Dan kom je bij het laatste onderdeel van het proces. De communicatie. 
Je kunt de medewerker van communicatie de opdracht geven om een welkomsbericht voor de nieuwe medewerker in te plannen op Yammer of het intranet. Zo kan de comment die de medewerker van communicatie in de balk plaatst, het welkomsbericht worden. Dat kan dan ook automatisch op Yammer of het intranet worden gezet. 
 En zo geeft opnieuw Power Automate een melding dat de onboarding is voltooid en het welkomsbericht op Yammer is geplaatst.  
En dan is het onboardingsproces afgerond en kan je nieuwe medeweker met een gerust hart aan de slag.   Ook wanneer een collega afscheid neemt, zijn dankzij Power Platform nog verschillende taken efficiënter op te lossen. We zetten meer mogelijkheden van Power Platform op onze pagina, maar nodigen je ook uit om contact op te nemen als je mogelijkheden zoekt voor jouw procesoptimalisatie.
Benieuwd naar meer?
Laat wat gegevens achter, dan sturen we je door naar onze webcast waarin deze case verder wordt toegelicht om meer te zien van de mogelijkheden!