Onze partners Omnia & Valo doen het goed volgens ClearBox Consulting. Het nieuwste ClearBox-rapport is het meest uitgebreide onafhankelijke overzicht van platforms voor intranet, medewerkersbetrokkenheid en ervaring. Omnia scoort erg goed op gebruikerservaring en visuele aantrekkingskracht, en ook partner Valo behaalt weer mooie scores. Benieuwd hoe onze twee partners het doen volgens ClearBox? Lees dan snel verder!
ClearBox Consulting is een gespecialiseerd onafhankelijk adviesbureau waar het maken van de werkplek met een betere productievere ervaring centraal staat. Na een uitgebreid onderzoek met verschillende tools voor je digitale werkplek volgt een adviesrapport waarin ook de tips en tops van onze partners staan. Lees je mee?
Omnia
✔ Omnia's navigatie- en lay-outmogelijkheden bieden uitgevers vele manieren om personeel te betrekken.
✔ Doelgroeptargeting werkt goed via 'bedrijfsprofielen'.
✔ De ervaring voor eindgebruikers voor alle soorten apparaten is uitstekend.
✔ Gebruikers worden goed ondersteund bij het zoeken naar inhoud of het bladeren door complexe informatie.
✔ Integraties met Microsoft-applicaties zijn sterk.
✔ Als prestaties op native SharePoint een probleem voor je zijn, biedt Omnia een manier om de laadsnelheid van pagina's te verhogen.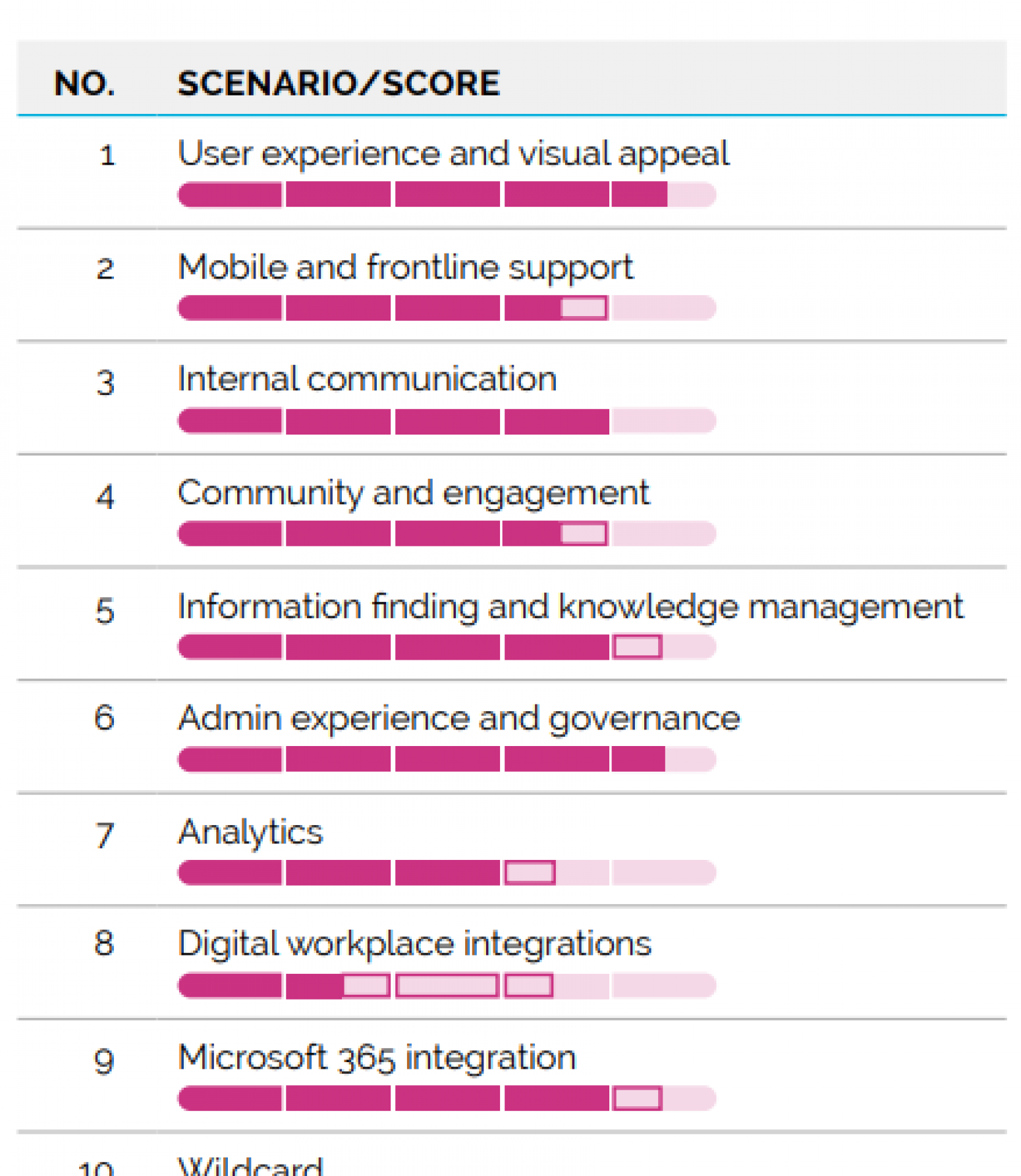 Omnia doet het goed op het gebied van gebruikerservaring en visuele aantrekkingskracht. Ze scoren namelijk wel een 4.5. Uit de review blijkt dat het ontwerp van Omnia is strak en de site is eenvoudig te gebruiken, wat resulteert in een zeer goede gebruikerservaring. Dit wordt geholpen door een ongelooflijk snelle interface, waardoor gebruikers soepel door inhoud kunnen navigeren. Nieuwe gebruikers krijgen een (niet te sluiten) welkomst-tutorial pop-up te zien die beheerders configureren met afbeeldingen en paginering.
Clearbox ontvangt veel klant verhalen van gebruikers van Omnia, wat vooral resulteerde in positieve feedback. Ze zeiden dat het zeer gebruiksvriendelijk is, vooral in relatie tot Microsoft. Klanten prezen ook de flexibiliteit ervan: "geweldige opties om inhoud en gegevens op verschillende manieren te kunnen oprollen om jouw intranet geautomatiseerd en relevant te maken".
Ontdek meer van Omnia
Benieuwd naar de voordelen van Omnia? Wij vertellen je hier alles over!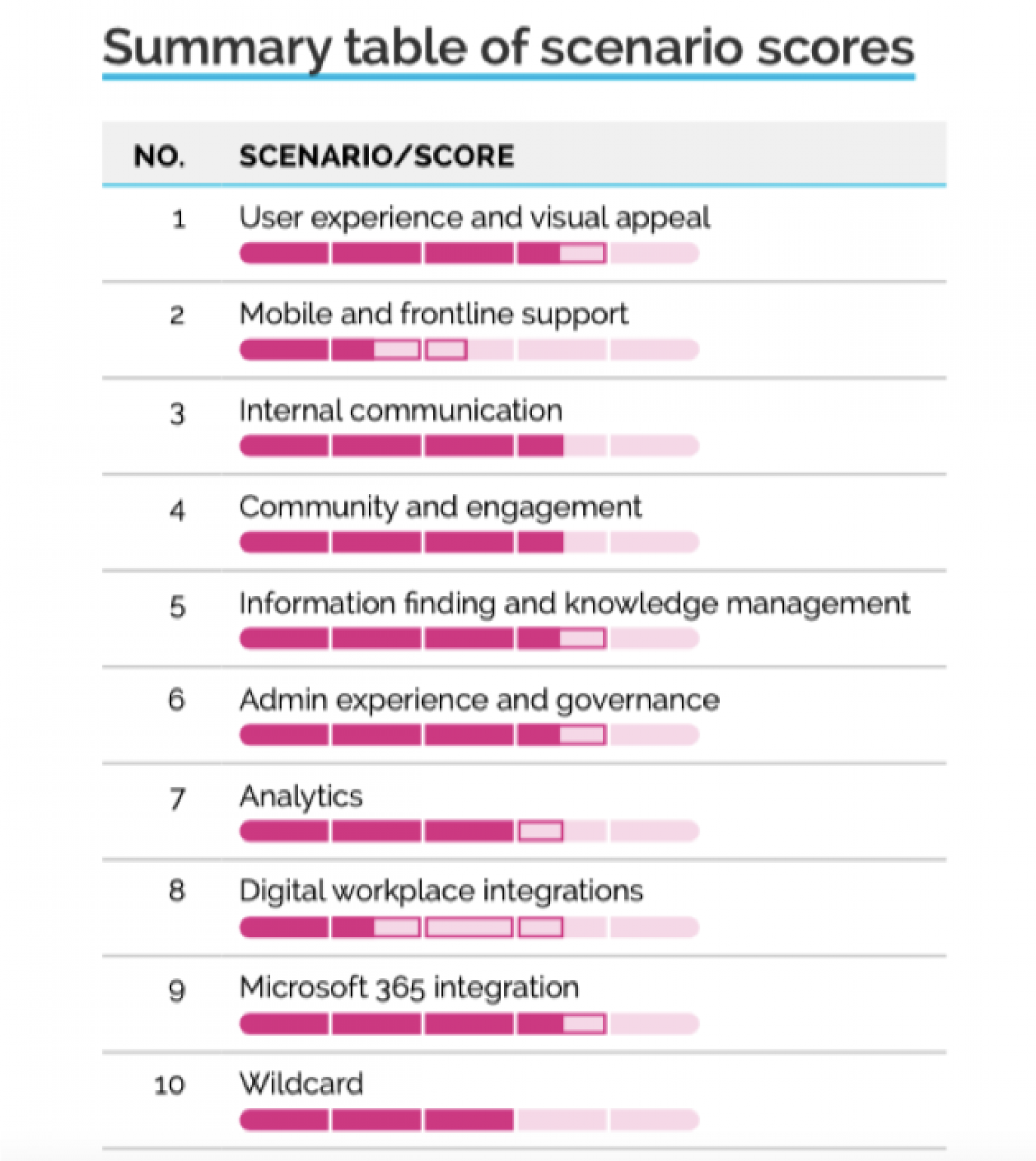 Valo
✔ Het basispakket van Valo intranet is scherp geprijsd, het biedt templates en web-parts die de look en feel van jouw intranet out-of-the-box zullen verbeteren.
✔ De visuele call-to-action-functiekaart in de navigatie is een mooi hulpmiddel voor communicanten om gebruikers door te verwijzen naar kern- of campagne-inhoud.
✔ Het in-situ Valo-toolboxpictogram maakt het gemakkelijk voor inhoudseditors en beheerders om de site te bewerken of te beheren – en het is gemakkelijk om toegang te krijgen tot analyses, waar je ook bent.
✔ De integraties met Viva Connections en Microsoft Teams die al beschikbaar zijn, evenals functies die binnenkort beschikbaar zijn, laten zien dat Valo synchroon loopt met de roadmap van Microsoft.
Valo scoort een 3.5 volgens de ClearBox als het gaat op het gebied van gebruikerservaring en visuele aantrekkingskracht. Uit de review is gebleken dat Valo een aantal fantastische functies heeft om een aantrekkelijk, schoon intranet te maken dat mensen helpt de juiste informatie te vinden.
Naast dat Clearbox erg te spreken zijn over Valo zijn haar klanten ook zeker tevreden. Zo waarderen ze de gebruiksvriendelijkheid van Valo en de mogelijkheden om nieuwe functionaliteit voor hun intranet uit te breiden en te bouwen. Een klant prees het "gemakkelijke maken en beheren van sjablonen" en de laadsnelheid van de pagina's. Het zoekcentrum werd aangehaald als "beter dan SharePoint online". De verbeterde navigatie en personenzoeker werden als bijzonder nuttig genoemd, samen met het aanpasbare 'universele webonderdeel'.