Office 365 Health Check
Het grote voordeel van werken in een Microsoft 365 omgeving (Office 365 en alle apps) is dat je je niet druk hoeft te maken over de omgeving. Maar als je na een vraag van een gebruiker toch zeker wilt zijn dat alle services "up and running" zijn, hoe kan je dan eenvoudig checken wat de status is? Daar gaan we in deze blog nader op in.
Office 365 Servicestatus
Microsoft heeft voor jou als beheerder een aantal zaken eenvoudig inzichtelijk gemaakt. Wil je weten of alle services functioneren? Dan is een goed startpunt https://status.office365.com/
We gaan een stapje verder en checken of alle vinkjes op groen staan als je inlogt als beheerder op het dashboard voor servicestatus via https://portal.office.com/Adminportal/Home#/servicehealth. Hier heb je inzicht in de huidige status van de Office 365-service en een veel duidelijker beeld van de potentiële service. Het dashboard bevat begrijpelijke informatie over de servicestatus en je kunt direct zien wat voor jou relevant is.
Office 365 servicestatus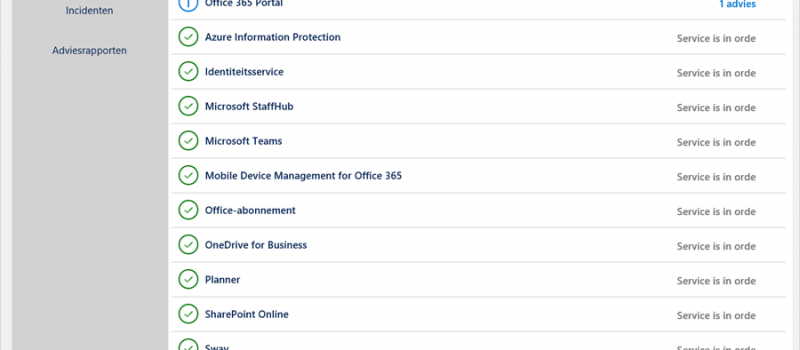 Direct inzicht
Via het dashboard heb je toegang tot uitgebreide incidentinformatie op basis waarvan actie kan worden ondernomen: het dashboard bevat een weergave waarin de belangrijkste, bedrijfskritische storingen worden gescheiden van andere storingen en deze worden onderverdeeld in twee categorieën: Incidenten en Adviesrapporten. In deze weergave kun je eenvoudig zien voor welke problemen je meteen actie moet ondernemen.
De Office 365 Admin app
Je kunt ook de mobiele Office 365 Admin-app gebruiken om de servicestatus te bewaken en andere Office 365-beheertaken uit te voeren op je telefoon. Zoek in de app store voor jouw apparaat naar Office 365 Admin en installeer de mobiele Office 365 Admin-app om deze te gebruiken.
Laat c)solutions een check doen op je Microsoft 365 / Azure omgeving!
Heb je twijfels over de inrichting van je Office 365 / Azure omgeving?
Performance – Laden pagina's traag? Heb je foutmeldingen?
Hoe staan je inrichtingsparameters in Office 365?
Is de koppeling met Active Directory (hybride omgeving) goed ingericht?
Wordt er met Rechten / Rollen gewerkt binnen Office 365 of SharePoint?
Hoe ga je om met archivering en bewaren van documenten in Teams / Groups / SharePoint?
Wat zijn de best practices om medewerkers die de organisatie verlaten hebben te verwijderen uit Office 365 / Onedrive / Groups / Teams?
Hoe richt ik extern gastgebruik in SharePoint / Teams / Yammer of het delen van documenten met externen zo veilig mogelijk in?
Ga je buiten mail nu ook aan de slag met migratie van van fileshares naar OneDrive / SharePoint / Teams en wil je de inrichting eens tegen het licht houden? Dan kan een preventieve check je veel voordeel opleveren.
Vraag de Office 365 Health check aan. In een vast stappenplan lopen onze consultants door je omgeving heen en krijg je van ons buiten de rapportage ook praktische adviezen en tips om Office 365 optimaal en veilig in te richten, voor nu en voor de toekomst.
Meer weten over de Microsoft 365 Healthcheck? Neem contact op!