We weten dat communicatie een natuurlijk component is dat mensen samenbrengt en verbindt. Interne communicatie is dan ook essentieel voor zowel het individu als voor teams. Het zorgt voor minder misverstanden, een sterke band tussen medewerkers en het boost kennis en innovatie.
In deze blog gaan we in op de verschillende tools die interne samenwerking kunnen ondersteunen binnen je organisatie. Ook bespreken we wanneer je welke tool het beste gebruikt. Voor een volledig overzicht én onze tips en tricks kun je ons webinar van 31 mei terugkijken onderaan deze pagina.
Vergelijking communicatiemiddelen: wat gebruik je wanneer?
Wist je dat medewerkers minder stress ervaren als ze de beschikking hebben over technologie die het werk versimpelt? Dat laat maar weer zien hoe belangrijk het is om te beschikken over de juiste tools.
Laten we eens kijken naar de belangrijkste communicatiekanalen. Te beginnen met het intranet en Outlook. Waar het intranet perfect te gebruiken is voor het creëren van sociale betrokkenheid, leg je met Outlook de focus op belangrijke mededelingen of berichten. Oók voor degenen die het intranet niet of nauwelijks gebruiken.
Dan de new kids on the block: Teams en Yammer. Yammer is een organisatiebrede toepassing waarmee innovatie en kennisdeling aangejaagd kunnen worden. Teams bevordert de samenwerking en zorgt ervoor dat complexe kennis gedeeld kan worden. Bekijk voor de volledige vergelijking de carrousel hiernaast (swipe naar recht en klik voor een grotere afbeelding).
Starten met een intranet?
Een intranet kan de medewerkersbetrokkenheid verhogen, maar ook efficiency en kennisdeling intern ondersteunen. Een intranet opzetten kan bijvoorbeeld met behulp van Viva Connections, een oplossing van Microsoft 365 waarmee je met SharePoint en Teams een online plek creëert voor nieuws en gesprekken.
Kijk daarnaast ook eens naar een social intranet van Valo. Hiermee biedt je gebruikers één centrale plek voor alle interne communicatie. Het creëert binnen Teams een overzichtelijk en persoonlijk dashboard, met informatie vanuit verschillende bronnen.
Bekijk de afbeelding hiernaast voor een vergelijking tussen Viva Connections en Valo Connect.
Op zoek naar meer tips over interne communicatie?
Wil je weten wat je kunt doen om de interne communicatie te verbeteren en welke Microsoft-applicaties hierbij kunnen ondersteunen? Of wil je een korte demo zien van de Social intranet-applicatie Valo? Dan is ons webinar van 31 mei een must-see. Vul hieronder je gegevens in om het webinar terug te kijken.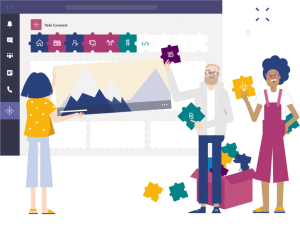 Meer tips en tricks in onze webcast
Wil je meer weten over interne communicatie en de grootste communicatie-uitdagingen binnen organisaties? Bekijk dan ons webinar terug. Hierin krijg je praktische tips die je direct kunt inzetten. Vul hiernaast je gegevens in om het webinar terug te kijken.