Hét Nationaal Intranetsumposium 2018
Op 13 november 2018 vindt in Nieuwegein de vierde editie van Hét Nationaal Intranetsymposium plaats. Een praktijkgericht event met alles over een effectief intranet of digital workplace. Bijna alle platformen kun je hier live bekijken, waaronder een social intranet met Valo.
Een social intranet met Valo
Het werkt efficiënt, automatiseert processen en vergroot betrokkenheid; Valo is een compleet Intranet waar medewerkers van houden! Verbeter de interne communicatie en samenwerking binnen jouw organisatie en maak kennis met Valo.  Een eenvoudige, kant-en-klare intranet oplossing die ook nog een snel te implementeren is. Bezoek onze stand tijdens Hét Nationaal Intranetsymposium voor een live demo van Valo.
Zes redenen om erbij te zijn
Praktijkgericht
De bijeenkomst richt zich op de dagelijkse praktijk van organisaties.
Laatste trends
Maak kennis met de laatste ontwikkelingen zoals de digital workplace.
Interactieve sessies
Deel je ervaringen en vragen met vakgenoten in kleine groepjes.
Inspirerend
Inspirerende en innovatieve voorbeelden van sociaal intranetten waaronder Valo.
Live intranetten kijken 
Unieke kans om live de intranetten van verschillende organisaties te bekijken.
Kleinschalig 
Het maximum aantal deelnemers is 180.
Voor wie?
Professionals op gebied van communicatie of ict die betrokken zijn bij intranet. Het event richt zich op mensen die zich oriënteren op een nieuw intranet én op professionals die op zoek zijn naar tips & tricks om het bestaande platform te verbeteren.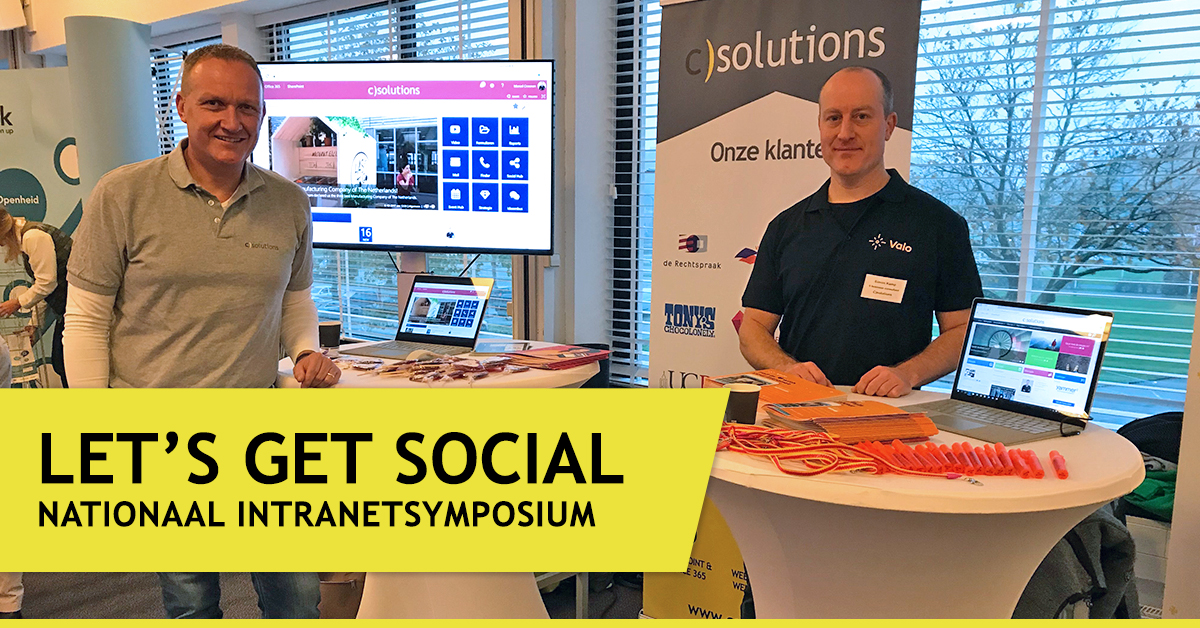 Meer info en aanmelden
Wij zien je graag op 13 november a.s. in Nieuwegein tijdens de vierde editie van Hét Nationaal Intranetsymposium. Schrijf je in en maak kennis met Valo, een social intranet is een gebruiksvriendelijk online platform waarmee medewerkers informatie kunnen delen, vinden en samenwerken.
Gratis inspiratiesessie
Meer weten over Valo? Tijdens onze Valo inspiratiesessie belichten we de best practices en obstakels op weg naar een succesvol social intranet om jou en je collega's dichter bij elkaar te brengen en de samenwerking te bevorderen. (Inclusief interactieve Valo demo) Vragen? Wij helpen je graag verder.