Wil jij ervaring opdoen op het gebied van (web-)content, social media en e-mailmarketing? Zoek je een stage in een jong en ambitieus team? En kun je minstens 4 dagen meewerken in een periode van 5 maanden of meer? Lees dan snel verder!
Tijdens je stage bij c)solutions krijg je de kans om het marketingteam van c)solutions, maar ook die van zusjes iqbs en erp|open te ondersteunen in de dagelijkse werkzaamheden. Dat betekent: content schrijven over nieuwe en aansprekende ontwikkelingen in de wereld van ICT, onze social kanalen optimaliseren, websites verbeteren en/of e-mailflows verbeteren en uitbreiden. Er zijn vele mogelijkheden dus kies gerust wat je het liefst doet!
Werkzaamheden
Als stagiair bij c)solutions mag je ons ondersteunen in al onze marketing. Je ontwikkelt content voor op onze website(s), denkt mee in de kalenders voor campagnes op Twitter, Facebook en LinkedIn, helpt mee bij de organisatie van webinars en evenementen en mag ons adviseren over onze arbeidsmarktcommunicatie en interne communicatie, zodat we die samen verder kunnen optimaliseren.
Wat verwachten we van je?
Je doet een HBO- of WO-opleiding richting marketing
Je hebt affiniteit met social media en verdiept je graag in de nieuwe mogelijkheden van online marketing
Je hebt een groot verantwoordelijkheidsgevoel
Je bent een topper in Nederlandse taal (en schrijft foutloos Nederlands)
Waarom afstuderen bij c)solutions?
We werken flexibel: waar en wanneer je wilt. Natuurlijk is het wel handig als we elkaar regelmatig weten te bereiken
Er is voldoende ruimte voor jouw creativiteit, adviezen en ideeën
We werken in een erg informele sfeer in een moederbedrijf van 5 BV's
Ons kantoor is goed bereikbaar in het midden van het land; zowel met het OV als met de auto
Interesse of vragen? Neem contact op met Jessie voor meer informatie!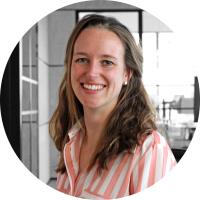 Lijkt dit jou wat? Vul dan ons sollicitatieformulier in!
Acquisitie wordt niet op prijs gesteld