Op uniforme wijze effectief samenwerken
De manier van werken is de laatste jaren sterk aan het veranderen. Zo werken we vaker hybride en in de vorm van projecten. En dát zorgt voor de nodige uitdagingen. Hoe zorg je er bijvoorbeeld voor dat alle projecten op een uniforme veilige wijze opgestart en gemanaged worden. Hoe deel je de templates en sjablonen die gedefinieerd zijn voor projecten? En hoe meet je dan de voortgang?
In sommige gevallen voldoen gebruikelijke tools zoals Slack of Microsoft Teams voor een effectieve samenwerking. Zoek je een tool die je meer mogelijkheden en overzichten biedt op het gebied van projectmanagement in Microsoft 365? Dan is Omnia een naam om te onthouden.
Een tool voor projectmanagement
Omnia is een oplossing die naadloos samenwerkt met Microsoft 365. Het beschikt over functionaliteiten specifiek ontworpen voor projectmanagement. Denk aan functionaliteiten gemaakt voor Governance binnen projecten of mogelijkheden voor het delen van procesbeschrijvingen.
Hiernaast zie je het Project Center dat is opgezet binnen Omnia. Je kunt als eindgebruiker de templates voor projectinrichtingen, huidige en afgeronde projecten inzien. Ook kun je hier projectdocumenten terugvinden.
Je project visualiseren
Binnen Omnia kun je een projectmodel definiëren en visualiseren. Vervolgens kun je de verschillende fases weergeven en daar documenten en sjablonen aan koppelen. Hiernaast is een voorbeeld van een projectmodel voor productontwikkeling te zien, inclusief de bijbehorende uitleg met documenten en links.
Interessant om te weten: je hebt de mogelijkheid om goedkeurings- en beoordelings- en archiveringsworkflows in te stellen om er zeker van te zijn dat de juiste informatie gedeeld wordt.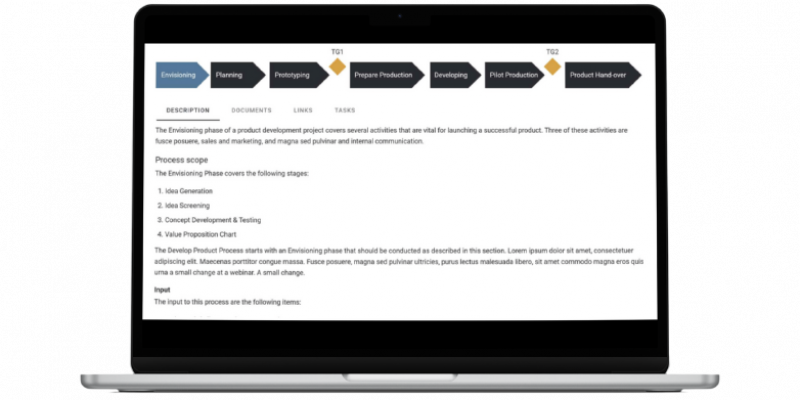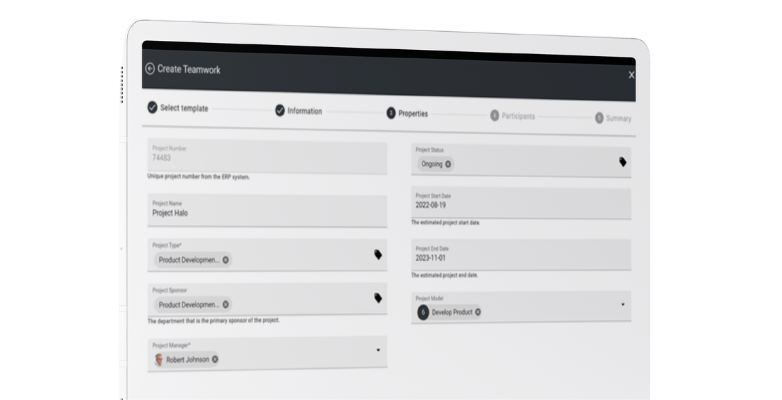 Aanmaken van projecten
Het aanmaken van een nieuw project kan worden aangepast aan specifieke wensen die passen bij je organisatie. Zo worden er door beheerders vaak regels opgesteld waar gebruikers aan moeten voldoen bij het aanmaken van een type project. Denk bijvoorbeeld regels voor naamgeving, projectnummers of op het gebied van eigenschappen zoals projecttype, sponsor en manager.
Projectomgevingen op basis van templates
Je kunt Omnia ook gebruiken om binnen Microsoft 365 automatisch projectomgevingen in te regelen op basis van templates. Zo kun je samenwerkingsprojecten opzetten in Microsoft Teams voor het voeren van gesprekken en delen van bestanden. Je kunt tijdens de creatie van een projectomgeving extra tabs laten toevoegen om het samenwerken af te stemmen op de wensen van je organisatie.
Goed om te weten: je kunt fases uit je project visualiseren, zoals hieraast te zien is. Geef projectleden via deze weg ook direct toegang tot de informatie die ze nodig hebben en geef bij iedere fase een duidelijke uitleg. Laat vervolgens door middel van kleuren de projectvoortgang zien.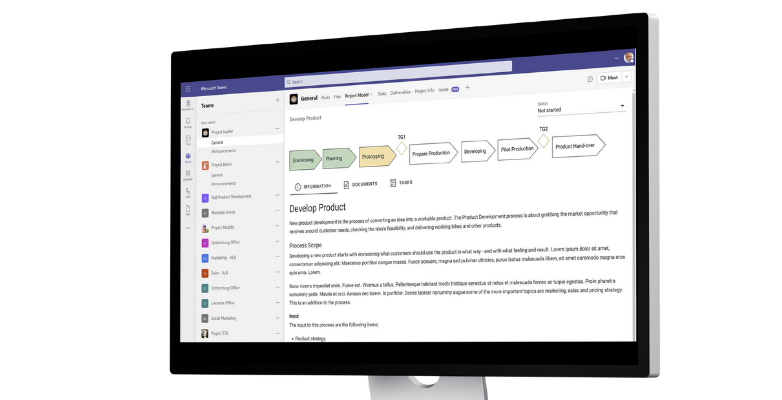 Overzicht van taken binnen je project
Je kunt met Omnia taken die bij een project horen laten importeren in een Planner-bord. De planner wordt dan voor alle teamleden weergegeven als tabblad (zie voorbeeld hiernaast) in Teams.
Ook interessant: onlangs heeft Omnia hier een webinar over gegeven. Kijk het webinar on demand terug.
Wil je meer informatie over documentbeheer met Omnia?
Vul hiernaast je gegevens in en wij sturen je een uitgebreide whitepaper over dit onderwerp.